Welcome to Grand Teton National Park, the perfect escape for those who seek an outdoor adventure! Whether you're looking for a fun weekend getaway or a unique chance to explore nature, this stunning national park has something special in store. From majestic peaks and lush forests to crystal clear lakes and wide open meadows, there's no shortage of things to do in Grand Teton. Come discover why so many travelers choose to make it their vacation destination each year!
Ready for some truly one-of-a-kind experiences? Then look no further than Grand Teton National Park. Here, you'll find plenty of activities that will take your breath away – from hiking trails with breathtaking views of the Tetons to canoeing trips on serene mountain lakes. Plus, don't forget about wildlife spotting; if you keep your eyes peeled, you might just catch sight of a moose or bear wandering through the woods! And if that isn't enough, there are also plenty of opportunities to observe local birds and other wild animals while exploring the area.
So what are you waiting for? Get ready to experience something new and exciting in one of America's most beautiful places – Grand Teton National Park! With its abundance of natural wonders and unique attractions, this remarkable destination promises something unforgettable every time. So go ahead – let yourself be swept away by the beauty and mystery surrounding these incredible mountains.
Overview Of The Park
Grand Teton National Park is a majestic and awe-inspiring slice of nature located in northwestern Wyoming. It's spread across 310,000 acres of beautiful mountain peaks, streams, forests and lakes, which make up much of the terrain of the Greater Yellowstone Ecosystem. No matter what your interests are or how you like to spend your time outdoors – from fishing to hiking to wildlife viewing – Grand Teton offers something for everyone.
The park is home to many species of wild animals such as mule deer, elk, moose, bighorn sheep and black bear; along with hundreds of bird species that migrate through each year. Its highest peak is 13,770 feet above sea level at Grand Teton Mountain and it possesses some of the most stunning scenery in all of North America. The glacial lakes and rivers provide incredible opportunities for water sports enthusiasts who can enjoy activities like swimming and paddling around these pristine waters.
For visitors looking for an authentic western experience without having to travel far away from civilization, Grand Teton provides fantastic access to trails leading into millions of acres of wilderness while still being within reach of nearby towns offering accommodations and other amenities. There's no better way to get back in touch with nature than by exploring this world-renowned national park! As we move on to discuss popular activities to enjoy here at Grand Teton National Park, let us first take a look at what makes this place so special…
Popular Activities To Enjoy
Experience the grandeur of Grand Teton National Park like never before! With an abundance of activities to enjoy, it's no wonder why visitors flock here year after year. From kayaking and snowshoeing in the winter months to horseback riding and wildlife photography in the summer, there is something for everyone. Birdwatchers will delight in spotting a variety of species while trekking through forests or paddling along lakeshores. Whatever your outdoor interests are, you're sure to find plenty of exciting things to do at Grand Teton National Park.
For those looking for a more relaxing experience, take some time to appreciate the stunning landscape from a boat cruise or hike one of the many trails that wind around majestic mountains. You can even make stops along the way to observe local wildlife or simply admire sprawling views as far as the eye can see. No matter where your journey takes you, be prepared for endless adventure! Transition into a new level of exploration with landmarks and attractions waiting around every corner.
Landmarks And Attractions
Grand Teton National Park is full of landmarks, attractions and iconic views that have captivated visitors for centuries. There are many historic sites to explore, such as the Craig Thomas Discovery and Visitor Center, which houses an interpretive center filled with information about the park's history and culture.
You can also take a guided tour around the valley floor or along one of the scenic trails in search of wildlife. One popular destination is Jenny Lake, where you can enjoy stunning views from Lookout Point. The Grand View overlook provides breathtaking panoramic vistas across Jackson Hole Valley and beyond.
Other notable attractions include Mormon Row Historic District, Phelps Lake Overlook Trail, Signal Mountain Summit Road and Schwabacher Landing. With so much to offer at Grand Teton National Park, it's easy to see why people come here year after year!
To further enhance your experience in this majestic national park, consider exploring its abundant wildlife viewing opportunities
Wildlife Viewing Opportunities
Grand Teton National Park is a dream come true for any wildlife enthusiast. From the majestic moose to the swift bald eagle, there are plenty of opportunities to spot animals and birds in their natural habitats. Whether you're an avid birdwatcher or just looking for some mammal spotting fun, the park has something to offer everyone!
For those seeking out animal spotting adventures, Grand Teton offers numerous trails that lead through wildlife meadows and dense forests. Depending on your level of experience, you can choose from short hikes such as Colter Bay Loop Trail or take a more lengthy trek like Leigh Lake Trail. Both will provide endless chances to view local wildlife including elk, bison, deer and even bears!
If you'd prefer to stay close to nature without getting too far into it, then consider heading down one of the scenic drives throughout the park. Wildlife viewing along these roads is abundant with many opportunities for bird watching and other small mammals lurking around every corner. Even if you don't see anything immediately, be patient and keep your eyes open—you never know when you'll stumble upon a surprise sighting!
Overall, Grand Teton National Park provides unparalleled access to vibrant wilderness full of stunning creatures waiting to be discovered. With so much beauty at hand, it's no wonder why this beloved destination continues to draw visitors year after year! Now onto exploring lakes, rivers and waterfalls…
Lakes, Rivers, And Waterfalls
Grand Teton National Park has plenty of lakes, rivers, and waterfalls for all kinds of outdoor activities. Lakeside camping is a perfect way to take in the beauty of this national park. With numerous campsites available around Jackson Lake and Jenny Lake, visitors can spend days appreciating nature's glory.
River rafting on Snake River is also an amazing experience! You'll be sure to spot some wildlife as you float through the breathtaking landscape. For those looking for a more adventurous activity, there are several waterfall hikes that offer spectacular views along with invigorating climbs.
Fishing sites at Lewis and Phelps Lakes allow anglers to catch some trout or bass while enjoying fresh air and stunning scenery. Boating tours provide even more opportunities to explore the lake or river while admiring different species of birds and other animals living near the shoreline. There's nothing like experiencing Grand Teton National Park from a boat tour!
No matter what kind of adventure you're seeking, there's something here for everyone when it comes to exploring the lakes, rivers, and waterfalls of Grand Teton National Park.
From peaceful fishing trips to adrenaline-filled river rafting excursions – these waters have so many possibilities waiting for you! So hop aboard your boat and get ready for a journey unlike any other – because no one should miss out on such an incredible opportunity to appreciate everything this majestic place has to offer. Now let's move onto discussing the wonderful hiking trails in Grand Teton National Park…
Hiking Trails
The Grand Teton National Park has some of the most spectacular trails in the country. You can explore backpacking routes, scenic views, and untamed wilderness on dozens of hiking trails within its boundaries. Whether you're a beginner looking for an easy stroll or a seasoned hiker searching for a challenge, there's something for everyone in this incredible national park.
Many of the trails are relatively flat and well-marked for those who prefer to take it slow. The Hermitage Point Trail is especially popular among first-time explorers – it offers stunning vistas without much elevation change. If you'd like to get your heart rate up, head to Cascade Canyon Trail, which features several steep switchbacks as you make your way along the picturesque canyon walls.
No matter what type of trail you choose, one thing remains true: Grand Teton will not disappoint! From breathtaking waterfalls to picturesque alpine lakes, you'll be rewarded with unbeatable scenery no matter where your feet decide to take you.
So don't wait any longer – strap on your boots and hit the trails today! With so many fantastic options available, it won't be long before you find yourself awestruck by all that nature has to offer at Grand Teton National Park.
Camping And Lodging Sites
Grand Teton National Park offers plenty of camping spots and lodging sites for visitors to explore. Campsites are available on a first-come, first serve basis with the exception of Signal Mountain Lodge which requires reservations. If you're looking for something more rustic, there's backcountry camping in designated areas as well.
Signal Mountain Lodge provides lodges and cabins with stunning views overlooking Jackson Lake for those who prefer a bit more comfort while exploring the park. All rooms have access to modern amenities such as Wi-Fi, cable TV and air conditioning. Guests can also make use of their swimming pool and hot tub facilities during warmer months. Meanwhile, other lodging options include Colter Bay Village RV Resort & Marina or Gros Ventre campground which both provide tent sites, full hookups and restrooms with showers.
When making your campsite or lodging reservations, it is important to take into account the time of year when planning your stay. During peak season from May through September, availability may be limited so plan ahead! With all these amazing opportunities for camping and lodging in Grand Teton National Park, you won't want to miss out on any adventure this beautiful national park has to offer.
Ready for an unforgettable drive? Then keep reading about scenic drives and road trips within Grand Teton National Park!
Scenic Drives And Road Trips
The Grand Teton National Park is home to over 200 miles of roadways, offering visitors the chance to explore some of the most stunning natural landscapes in the country. From breathtaking mountain vistas and rolling hills to serene lakeside views, there's something for everyone here. With four picturesque drives that range from easy-to-moderate difficulty levels, scenic drives through this national park offer a unique way to experience its beauty.
One popular route is Signal Mountain Road, which winds up 6 miles of steep switchbacks until you reach an overlook with sweeping panoramic views of Jackson Hole Valley below. This journey offers travelers both adventure and relaxation as they take in all that nature has to offer – from lush forests to snowcapped peaks. Another great option is Jenny Lake Scenic Drive, a 5-mile loop around one of the park's largest alpine lakes where hikers can stop at various points along the way for breathtaking photo opportunities.
Road trips are also an ideal way to explore Grand Teton National Park's diverse terrain. Taking your own vehicle allows you more freedom than other forms of transport; allowing you time for spontaneous stops or detours off the beaten path when inspiration strikes! Whether it's taking a leisurely drive down winding roads past grazing elk herds or cruising on highways framed by majestic mountains, a road trip will give you plenty of chances to see why this area is so special.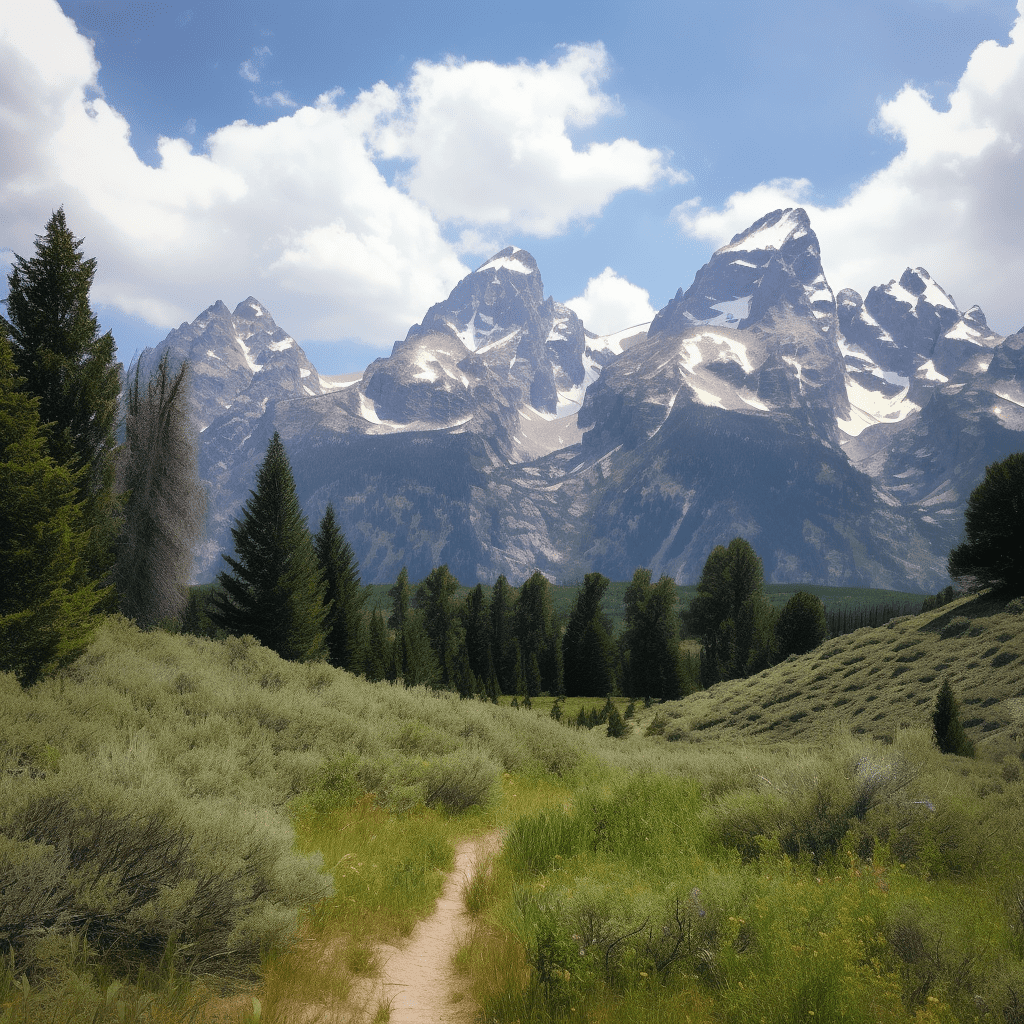 From high alpine passes to tranquil lake shores, these unforgettable backdrops make driving through Grand Teton National Park truly memorable. So grab your keys and get ready to hit the road – you won't regret it! Ready for even more exploration? Next we'll look at boating and fishing spots in Grand Teton National Park fit for any water enthusiast!
Boating And Fishing Spots
Ready to hit the waters of Grand Teton National Park? There are plenty of great spots for boating and fishing. Whether you're looking for boat tours, lake fishing or a quiet spot to cast your line and relax, you'll find it here!
For those who want to get out on the water, some of the most popular boating spots in Grand Teton include Jackson Lake, Jenny Lake and String Lake. These lakes provide a perfect backdrop with views of snow-capped peaks and lush canyons that make paddling around them an unforgettable experience. All three offer excellent opportunities for both motorized and non-motorized boats alike.
Fishing is also very popular in this area. Anglers will find plenty of diverse fish species at many different locations like Snake River, Leigh Lake, Amphitheater Lake and more.
Fishing from shore is allowed in all bodies of water within the park boundaries but when it comes to deeper areas like rivers or larger lakes then boat fishing is usually preferred—especially if you're hoping to catch some trophy-sized catches! Guided fishing trips are offered by local businesses too so even if you don't have access to a boat yourself there's still ways for everyone to enjoy a day on the water.
Grab your rods and tackle boxes because these picturesque waters are sure to be full of surprises! From peaceful paddles through serene mountain scenery or an afternoon spent angling for trout – no matter how you choose to spend your time here, it's guaranteed to be memorable one. So come explore the beautiful waters of Grand Teton National Park – we promise they won't disappoint!
Picnic Areas And Pavilions
Picnicking in Grand Teton National Park is a popular activity for visitors. There are plenty of picnic areas and pavilions to choose from, with grilling spots and scenic views that offer the perfect setting for your meal. Many of these locations have fire pits or charcoal grills available, as well as picnic tables so you can enjoy your meal outdoors.
One great spot to try is Jackson Lake Overlook Picnic Area, which offers stunning views of the lake below. You'll also find easy access to restrooms here and nearby trails if you want to explore after eating lunch. The String Lake Picnic Area has several shaded spots, making it a great place to relax and admire the scenery. And be sure to check out Signal Mountain Lodge's North Shore Picnic Area for some truly breathtaking views of the Tetons!
At each picnic area or pavilion, you'll find facilities that make planning an outdoor meal easier than ever before. From barbecue grills and fire rings to benches and trash cans — everything you need is provided so all you need bring is food and drinks! So grab a blanket, pack up some snacks, and head out on an adventure at one of Grand Teton's many beautiful picnic sites.
Ranger-Led Programs
Marvelous and mesmerizing, Grand Teton National Park offers a plethora of ranger-led programs that are meant to educate as well as entertain. From guided tours in the park's backcountry to interpretive talks about its wildlife, visitors can get an up close look at this stunning landscape. Here are some unique ways to experience the park through ranger-led programs:
Guided tours – Take advantage of onsite naturalists who will provide detailed information about the park's flora and fauna while exploring it together.
Nature walks – Learn more about local species, plants and geology while taking leisurely strolls around the area.
Educational classes – Get acquainted with all there is to know about Grand Teton by attending lectures and workshops offered throughout the year.
Whether you're looking for adventure or want to take in nature, these ranger-led programs offer something fun for everyone. With knowledge imparted from experts who have been studying this amazing ecosystem for years, visitors can better understand what makes this place so special. So why not join a ranger-led program today? Your journey into discovery awaits!
Educational Programs
If you're looking to learn more about Grand Teton National Park, there are plenty of educational programs available. From park classes and guided tours to nature studies and educational talks, the park has a variety of activities that will help you understand its unique ecology and environment.
One great way to explore the park is by taking one of the many ranger-led programs offered throughout the year. These range from hikes to bird watching expeditions or lessons in geology, flora, and fauna. You can also attend evening campfire talks on topics like animal behavior or local plant life. The rangers provide fascinating insights into the beauty of this national park.
The park also offers several self-guided exploration experiences designed for families and groups who want to deepen their understanding without relying on a ranger program. Nature study walks with detailed brochures allow participants an intimate look at wildlife habitats, while audio tour stops teach visitors about geologic features around them using recorded narration through headphones provided at each stop.
No matter which type of learning experience catches your eye, exploring Grand Teton National Park's educational offerings gives you an appreciation for all that it has to offer—and insight into how best to protect it for future generations! With that knowledge, let's now take a look at some special events happening at the Park.
Special Events At The Park
Grand Teton National Park is a great place to experience special events and ranger programs! So many unique activities are available, like guided hikes and wildlife tours. You can also take part in educational talks about the park's history or join a bird watching tour. With all of these options, finding something you'll enjoy is easy!
If you're looking for an unforgettable experience, there are plenty of grand teton national park events that happen throughout the year. From outdoor concerts to stargazing parties, there's always something fun going on! The park also hosts art workshops where visitors can learn from local artists and create their own masterpieces. Plus, kids will have a blast attending nature-themed camps during summer months.
No matter what type of event you choose to attend, you'll be sure to get up close with nature and explore the beauty of Grand Teton National Park. It's truly one of America's most stunning parks — and its special events make it even more amazing! As your journey through this majestic landscape comes to an end, why not check out some of the shopping and dining options nearby?
Shopping And Dining Options
Grand Teton National Park offers visitors a wide range of shopping and dining options to choose from. There is something for everyone in the area with its many gift shops, eateries, and restaurants. Whether you're looking for outdoor gear or souvenirs to take home as mementos of your trip, Grand Teton has it all.
The first place to start when seeking out an enjoyable meal or shopping experience is Jackson Lake Lodge & Resort located on the north side of the park entrance. Its elegant interiors feature a variety of upscale items including designer apparel, jewelry, art pieces, and more. The resort also features several casual eateries perfect for grabbing a bite after a long day exploring the great outdoors.
If you're looking for something a bit more off-the-beaten path then head over to Dornan's Chuckwagon Restaurant that sits at the base of Signal Mountain overlooking Jenny Lake. This rustic western restaurant serves up hearty local favorites like elk stew and huckleberry pie with fresh ingredients delivered daily from nearby farms and ranches. For those who are feeling adventurous they offer guided horseback rides along scenic trails winding through the Tetons!
Whether you're seeking fine dining or want some snacks while sightseeing around town, Grand Teton National Park offers plenty of opportunities to shop and dine throughout its vast landscape. From unique boutiques found near popular viewpoints to cozy cafes serving up delicious dishes made with locally sourced ingredients – no matter what type of culinary adventure you seek in this magical destination, it can be found here! Now let's explore how accessible these experiences are…
Accessibility Features
Grand Teton National Park is a place where the wonders of nature are accessible for all. From wheelchair-accessible trails to handicap-friendly attractions, there's something here for everyone regardless of their mobility needs.
One great way to explore and experience the park is through its completely wheelchair-accessible picnic areas! The sweeping views of Jackson Lake and the Sawtooth Mountains create an unforgettable backdrop while visitors can enjoy a peaceful meal in nature. For those looking for lodging during their visit, Grand Teton offers several accessible sites, providing comfortable accommodations that make it easy to get out and explore everything this beautiful national park offers.
The adventure doesn't have to end when you leave either – special events like "Trekking with Disabilities" provide disabled individuals with opportunities to explore the many different activities available in the area such as horseback riding, whitewater rafting, fishing and more. So don't let your disability limit what you can do in Grand Teton National Park – come on down and discover all the unique things this majestic part of America has to offer!
Frequently Asked Questions
Is There A Fee To Enter Grand Teton National Park?
Are you wondering if there is a fee to enter Grand Teton National Park? Well, the answer is yes. Entrance fees are required for all visitors over sixteen years old and help cover the costs associated with providing an enjoyable park experience.
The cost of admission depends on how long your stay will be; there's no one-size-fits-all fee structure. For example, those who only plan to spend seven days or less in the area can purchase a weeklong pass for $35 per vehicle or $30 per motorcycle.
On the other hand, if you're planning on staying longer than seven days, then it would behoove you to look into purchasing an annual pass for either $70 or $80 depending on whether your vehicle has more than two axles. This annual pass gives you unlimited access to not just Grand Teton but also Yellowstone National Park and any other federally managed lands around the US.
In addition to these upfront fees, some activities within the park may come with additional charges such as camping fees and tour guide services. However, none of these extra expenses should deter anyone from visiting this incredible national treasure!
With stunning mountain vistas and plentiful wildlife sightings, Grand Teton National Park offers countless opportunities for adventure and exploration that are unmatched by any other place in America. Whatever your reason for coming here – hiking, fishing, sightseeing – don't forget about those entrance fees upon arrival!
Are There Any Guided Tours Of The Park Available?
Are you looking to explore Grand Teton National Park? With its stunning views and abundant wildlife, it's no wonder people come from all over the world to experience this breathtaking park. If you want to get even more out of your visit, consider taking one of the guided tours available in Grand Teton.
From ranger-led hikes to horse rides through the mountains, there are many ways to discover the beauty of Grand Teton while learning about its history and wildlife. Guided tours at Grand Teton can be fun for families or couples to enjoy their time outdoors together. Whether you choose a leisurely stroll along trails with an experienced guide or take part in activities such as rafting or kayaking, these experiences provide unique perspectives on some of the most iconic sites in western North America.
The knowledgeable guides who lead these tours will help visitors learn about things like local plants and animals, including bison and grizzlies! They'll also share stories from the area's past – from Native American tribes that have lived here for generations to early settlers who explored grand teton national park during the 1800s.
Taking part in a guided tour is a great way for adventurers seeking freedom to explore nature without having any prior knowledge. So if you're looking for something different on your next trip to Grand Teton National Park, why not try a guided tour? You won't regret it!
Are Dogs Allowed In The Park?
Are dogs allowed in Grand Teton National Park? Why yes, they sure are! This beautiful national park is pet-friendly and canines of all shapes and sizes are welcome. Whether you're looking for a leisurely hike around Yellowstone or an afternoon spent fishing at Jackson Lake, your furry friend can come along with you to experience the beauty of this location.
At Grand Teton, there's no need to worry about leaving Fido behind while you explore the sights and sounds of nature; instead, bring him with you so that he too can take part in one of America's most beloved parks. It should be noted that pets must remain on leash throughout their visit but otherwise, enjoy the great outdoors together!
Although it is important to remember that when exploring the backcountry areas such as trails, lakeshores and meadows, leave your pup at home since these areas are not considered dog-friendly. But don't let that stop you from taking advantage of what Grand Teton has to offer—endless possibilities here! With plenty of activities available inside and outside the park, everyone will have something special to take away from their trip. So grab a leash and head out into the wild blue yonder – afterall, nothing beats experiencing the grandeur of Grand Teton with your favorite canine companion by your side!
What Are The Best Times Of Year To Visit The Park?
Visiting Grand Teton National Park is one of the most breathtaking and rewarding experiences that any traveler can have. Whether you are an avid hiker, a passionate sightseer, or simply someone looking to get away from it all – discovering what this incredible park has to offer will leave you with memories that will last a lifetime. The best times of year to visit the park depend largely on weather conditions and peak season for sightseeing opportunities.
When it comes to deciding when to plan your trip, summertime in the park may be ideal if you're looking for warmer temperatures and easier access to trails. However, while springtime offers milder weather conditions than winter, the park's roads often don't open until late May due to snow accumulation. If you'd like more seclusion during your stay, fall might be the time for you; after Labor Day weekend tends to see fewer visitors, making it possible to find much quieter hikes and campgrounds than usual.
No matter when you decide is best for visiting Grand Teton National Park, rest assured that there is something special waiting for you around every corner – from sparkling alpine lakes surrounded by majestic mountainscapes, through colorful forests teeming with wildlife, up winding river valleys full of cascading waterfalls and natural hot springs – each moment spent here will keep you coming back again and again! So grab your camera, pack some snacks and start planning your adventure today; this is an experience that no amount of money can buy – so take advantage of nature's bounty while it lasts!
Are There Any Restrictions On Camping In The Park?
If you're planning on camping in Grand Teton National Park, it's important to be aware of the regulations and restrictions that are in place. All visitors should familiarize themselves with the park's camping rules before setting out for their trip. Here is a guide to help understand some of the basic requirements when it comes to camping in Grand Teton:
Know where you can camp – There are various sites available throughout Grand Teton National Park which offer secluded settings as well as convenient locations right next to trails and other attractions.
Understand special permits – If you plan on staying longer than 14 consecutive days or if your group includes more than 10 people, a special permit must be obtained from the park office in advance.
Respect fire safety rules – Firewood collection is prohibited within the boundaries of the park so make sure to bring along enough supplies beforehand. All fires must be kept small and put out completely after use.
Be mindful of wildlife – The animals living within Grand Teton National Park coexist peacefully with humans but disruptions caused by careless human behavior can have lasting consequences for both parties involved. Ensure not to leave any food unattended around campsites or hike off-trail away from designated paths.
Follow noise guidelines – In order to protect everyone's experience while visiting this amazing natural area, please keep noise levels low exceptionally at night time hours and never play music directly from speakers outdoors.
The majestic beauty of Grand Teton National Park offers an unforgettable outdoor adventure for anyone looking for an escape into nature whilst still following responsible recreational practices such as abiding by all camping regulations set forth by the park authorities.
Whether you want to relax near one of its many pristine lakes or embark on challenging hikes through rugged terrain, there is something here waiting for every type of explorer! With great views, plentiful wildlife sightings and plenty of opportunities for relaxation come prepared knowing exactly what rules are required when spending nights under the stars in this beautiful national treasure.
Conclusion
Visiting Grand Teton National Park is a unique experience that everyone should have the chance to enjoy! With its stunning scenery, diverse wildlife and endless activities, there's something for every type of traveler. The options are limitless, from camping and hiking to guided tours and water sports.
It's worth noting that dogs aren't allowed in this national park, so it's best to leave your furry friend at home if you plan on visiting. Additionally, while there isn't an entrance fee, some activities may require additional fees or permits. Be sure to do your research before heading out!
Overall, if you want to add a little adventure and excitement into your life—Grand Teton National Park is definitely the place for you! It's like hitting two birds with one stone; not only will you get incredible views but also create memories that will last a lifetime. So don't wait any longer—pack your bags and take the plunge – head over to Grand Teton National Park today!
Jason is the author of Laienhaft, a blog for all things outdoor and camping. If you're looking for the best tent to take on your next camping trip, or need some advice on how to get started with recreational camping, Jason has you covered. He's also an expert on survival skills – if you're ever lost in the wilderness, he's the guy you want to find!