Ahh, Spring! The time of year when the days are getting longer and warmer. It's finally time to say goodbye to winter and hello to camping season! Now is the perfect opportunity for outdoor adventurers to stock up on supplies, grab their tent and sleeping bag, and get ready for an epic journey. With so many incredible locations around the country just waiting to be explored, there's no better way to reconnect with nature than by camping this spring.
But before you embark on your next adventure, it's important that you know all the tips and tricks necessary for having the best experience possible. Don't worry; I'm here to help guide you through every step of planning your upcoming excursion into nature! So let go of any worries or hesitations; now is the perfect chance to break away from everyday life and enjoy some quality time outdoors.
The great outdoors offers something special – a feeling of complete freedom unlike anything else in life. And if you're prepared with essential gear and knowledge about what lies ahead, then camping can be one of the most rewarding experiences imaginable. In this article, I'll reveal 30 must-know tips and tricks for making sure your next camping trip is a truly unforgettable memory! Let's dive right in…
The Basics Of Spring Camping
It's time to say goodbye to winter and hello to spring! With the warmer temperatures, it's prime camping season. According to a recent study, over 37 million Americans go camping each year—and now is the perfect time for you to join in on the outdoor fun.
Whether you're new to tent camping or an experienced camper, these 30 tips will make your spring camping experience unforgettable. So pack up your sleeping bag and other essential camping gear and get ready for a great adventure!
When planning your trip, local research campgrounds that are open this time of year. Not every site stays open all-year round so double check before booking. Also, consider what kind of terrain you'd like: hillsides with gorgeous views, shady wooded areas near rivers or lakes? And don't forget amenities–you may want access to restrooms and showers while away from home. Armed with this information you'll be able to find the best place to go camping in no time!
From there it's just a matter of packing all your supplies and hitting the road. Before you know it, you'll be out in nature enjoying fresh air and sunshine without any distractions or worries about daily life back home…
Spring Camping Tips
Winter is making its exit, and it's time to welcome the warm embrace of spring. What better way to experience the season's beauty than a camping trip? But before you grab your gear and head out, ensure you are prepared.
This post will review everything you need to know for an unforgettable spring camping trip. From the essentials you need for your trip to staying warm while camping, planning your camping trip, setting up your campsite, and finding safe ways to enjoy nature.
We've also covered you with some top spring camping destinations and what you need to wear, pack, and take care of to enjoy your trip fully. So, get ready to say goodbye to winter and hello to an adventure-packed spring camping trip!
Spring Temperatures & Spring Camping Weather
Springtime is an ideal season for camping, but it comes with unpredictable weather conditions. During spring camping in the Pacific Northwest, temperatures range from 50 degrees to rainy and cold. Therefore, a forecast check is indispensable to ensure proper attire.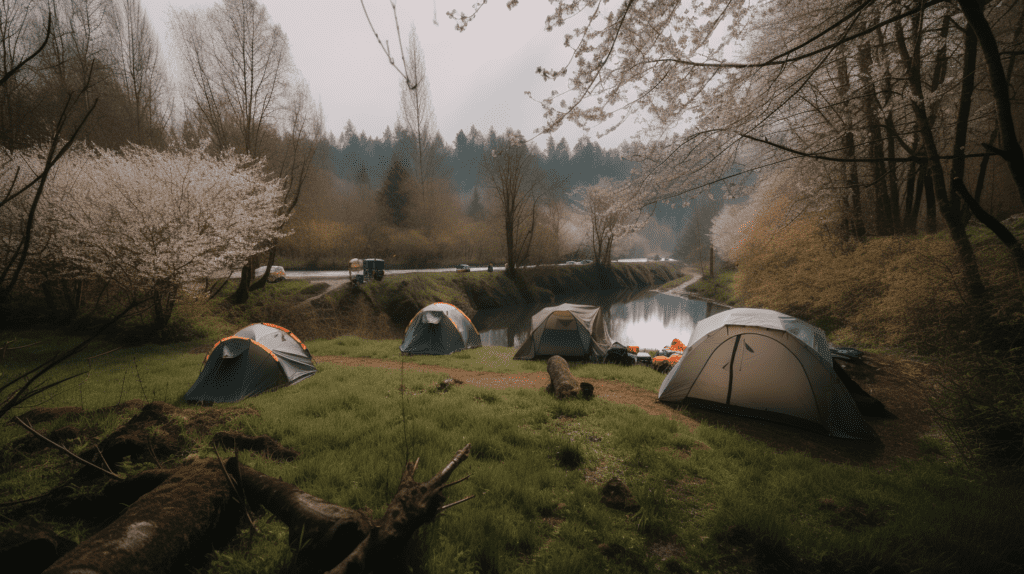 Dress in layers so that your clothing is adaptable to temperature fluctuation. Rain gear such as jackets, boots, and dry bags should always be brought along to stay dry and warm in case it rains.
Check the opening dates of campgrounds before booking a spring camping trip. Pack blankets and sleeping bags to prepare for cold nights, even during warm days. With proper precautions, you can enjoy the beautiful weather and nature that spring camping brings.
Spring Camping Essentials
Spring camping requires essential items to be packed, such as blankets, water jugs, sleeping pads, and layers of clothes for cold weather. Bring extra things like a tarp, water bottles, and camp cooking tools to make your camping trip more comfortable.
It is essential to ensure that your sleeping bag and tent are water-resistant and designed for cold weather conditions to keep you dry throughout the trip. Before packing up, take the time to review and check all of your camping gear and make sure no parts are missing.
Also, if your tent is wet, take the time to air it out properly before packing it up. With the right preparation and essential gear, your spring camping trip can be a fun and memorable experience.
What to Take Camping
Spring camping can be a great way to enjoy the beauty of nature after a long winter. To fully enjoy your outdoor adventure, having the right gear is important. Key items to include in your packing list are a four-season camping tent to ensure protection from potential cold weather, a sleeping bag rated 10°F or below for staying warm and comfortable throughout the night, and binoculars or bird-watching books to enjoy the beauty of nature.
It's also essential to take advantage of the lesser crowds in springtime and book a campsite in advance. Be aware of any trail changes compared to the summer and plan accordingly. With these essentials in mind, you can say goodbye to winter and hello to a memorable spring camping trip.
Tips for Staying Warm During Cold Weather Camping
When it comes to spring camping, having the right essentials to make your trip comfortable and enjoyable is important. One of the key things to keep in mind is staying warm during cold weather camping. To do this, start by ensuring that your camping gear is in working order and there are no holes or tears in the tent.
Additionally, you'll want to prepare warm meals that are easy to cook to help keep you warm from the inside. Bringing extra layers of clothing and blankets is also essential for staying warm, especially at night. Investing in good quality, insulated sleeping bag is also important, as it will keep you snug even when the weather is chilly.
If you're still feeling the chill, try using a hot water bottle to keep your bed warm throughout the night. With these tips, you can be sure that you're well-prepared for any cold weather that may come your way on your spring camping trip.
Spring Camping Planning
Planning a spring camping trip can be an exciting and uplifting way to welcome the warmer weather after a long winter. However, some critical factors must be considered before embarking on your adventure.
First and foremost, confirming the opening dates of campgrounds before planning any trip is essential. Many campgrounds are closed during the winter months and may not open until later in the spring. For popular campgrounds, making reservations in advance is recommended to secure your preferred spot.
If your preferred campground is fully booked, try being adaptable with scheduling, location, or camping style to secure a last-minute reservation. If you plan your camping trip for a spring break or holiday weekend, booking campgrounds in advance is even more critical.
Plan for hiking and biking trails to look different than they would in the summer, and take it slow. Keep track of weather updates and pack accordingly. These tips will help you plan a successful and joyous spring camping trip.
Planning Your Camping Trip
Planning your spring camping trip requires some preparation to make the most of your trip. One important step is to know when campgrounds open and to make reservations in advance, especially for popular destinations. It's also important to check all your camping equipment before leaving, making sure everything is in working order.
Watching the weather forecast is also crucial in preparing for your trip – this way, you can pack accordingly and be prepared for any sudden changes. Popular campgrounds fill up quickly, and being flexible with your schedule, location, or camping style can help you secure a spot, even with last-minute reservations.
Overall, thorough planning and preparation can make your spring camping trip an enjoyable and stress-free experience.
Setting up Your Campsite
Spring camping can be a refreshing change from the cold winter months. When planning your trip, be sure to check the opening dates of the campground you want to visit and consider making reservations ahead of time. Additionally, make sure you have the appropriate gear for the colder weather, including four-season camping tents and proper sleeping bags.
Pack extra layers of clothing and plenty of blankets to stay warm when setting up your campsite. Bring waterproof containers to keep your belongings dry, extra tarps to protect your tent and gear, and flashlights with extra batteries to ensure you have enough light at night.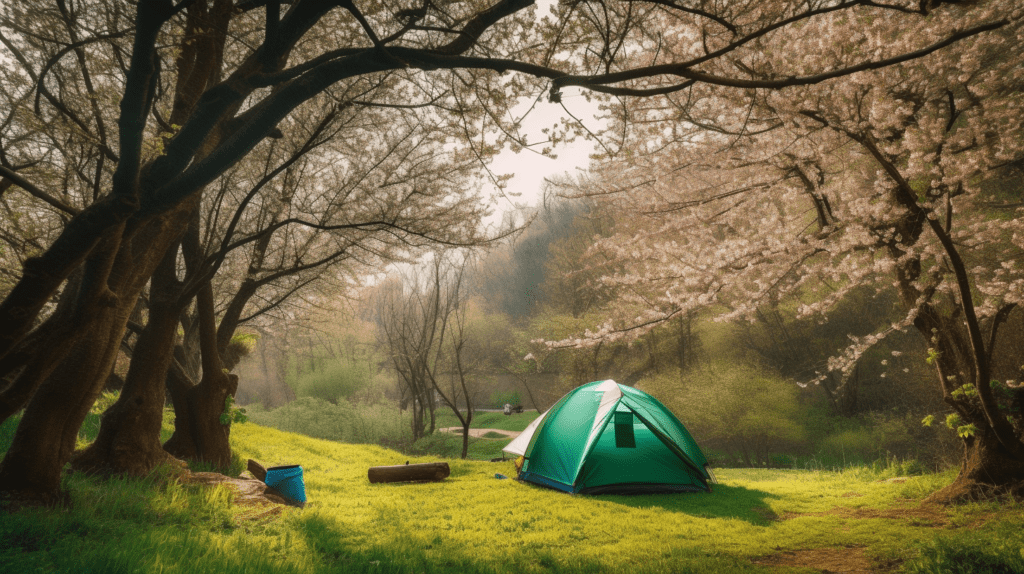 Restock your first aid kit and bring plenty of water and non-perishable foods to keep you fueled throughout your trip. With a little planning and preparation, you can say goodbye to winter and hello to an enjoyable and comfortable spring camping experience.
Tips for Having a Safe and Fun Camping Experience
One of the most critical aspects of planning a spring camping trip is ensuring that you have a safe and fun experience. Here are some tips to keep in mind:
Firstly, ensuring that your camping equipment is in working order before you leave is important. This includes checking and testing your tent, sleeping bag, cooking stove, and other gear.
Secondly, pack appropriate meals for the weather. In spring, the weather can be unpredictable, so it's important to pack a mix of hot and cold meals, including snacks that can be eaten on the go.
Thirdly, plan your camping trip with your crew. Ensure everyone is on the same page about the itinerary and has the necessary gear and supplies.
Fourthly, always check the forecast before leaving. Spring weather can change quickly, so it's important to be prepared for sudden weather changes.
Lastly, if you find yourself stranded or in trouble, don't hesitate to call for help. It's always better to be safe than sorry. By following these tips, you'll be sure to have a safe and enjoyable spring camping experience.
Now that we've gone over some of the essentials for a successful spring camping trip, let's explore how to choose the perfect spot…
Tips For Choosing A Great Spring Camping Spot
It's time to start planning your spring camping adventure! The days are getting longer and warmer with the winter months behind us. Take advantage of this opportunity by choosing a great destination for your next trip. Many gorgeous places across the country make perfect spots for spring camping. Here are four tips to help you find one of the best ways to enjoy nature in all its glory:
Research some of the best Florida Springs – One of the top destinations for spring camping is Florida's springs. These natural gems offer crystal-clear water, lush vegetation and plenty of recreational opportunities. Spend an afternoon snorkeling or kayaking along with soaking up some sun onshore.
Look into local state parks – There are also lots of great state parks around the country where you can set up camp and explore nature at its finest. From hiking trails to fishing ponds, these parks have something for everyone who loves being outdoors. Plus, they often have amenities like bathrooms and showers so you don't need to worry about roughing it too much!
Consider making reservations ahead of time – If a particular spot has caught your eye, be sure to book early as campsites tend to fill up fast during peak season (May through August). This way, you'll ensure that you get exactly what you're looking for when it comes to location and size without having any last minute surprises thrown in!
Read reviews from other travelers – Lastly, read reviews and blog posts written by those who have visited potential spots before committing to a specific place. You never know what hidden gem could await discovery or what kind of unexpected difficulties may arise if not adequately prepared beforehand!
With these helpful tips in mind, you should now be well on your way toward choosing just the right spot for your upcoming spring camping trip.
Spring Camping Destinations
Spring is the perfect time for camping enthusiasts to say goodbye to winter and embrace the beautiful weather of the new season. With the winter snow melting away, campers can enjoy a variety of beautiful camping spots across the US.
Four-season camping tents are a must-have for those in colder climates, whereas three-season tents are perfect for the lower US. It is important to book campgrounds in advance to ensure availability and to check their opening dates if they are closed during the winter. Location, amenities, distance, and weather conditions are crucial factors when choosing a campground for a springtime camping adventure.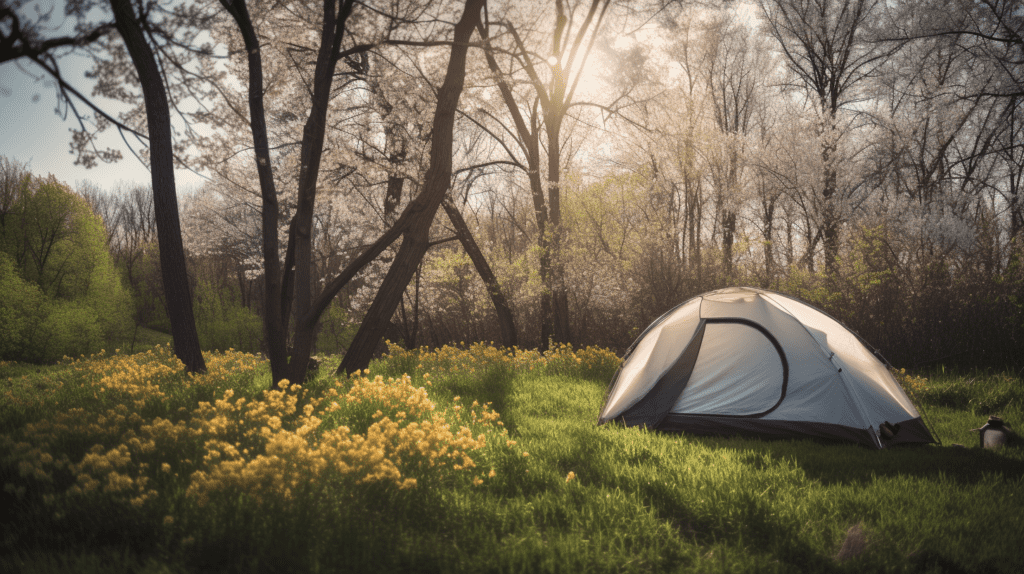 Last-minute campers should remain flexible with their schedules, locations, and camping styles to have the best possible experience. Overall, spring camping is an amazing adventure for people who want to experience nature in a different light.
Spring Camping Destinations & Camping Spots in the US
Spring is a fantastic time to go camping in the United States as the weather warms up and nature bursts into life. Here are ten great spring camping destinations across the country, offering a mix of scenic beauty, outdoor activities, and wildlife viewing opportunities.
Great Smoky Mountains National Park, Tennessee/North Carolina Famous for its abundant wildflowers, the Great Smoky Mountains are a top choice for spring camping. Take a hike through the lush forests, enjoy the stunning mountain vistas, and watch for diverse wildlife, including black bears and white-tailed deer. (See also: Unique Things To Do In Great Smoky Mountains National Park)
Joshua Tree National Park, California Experience the unique beauty of the desert in spring when the wildflowers bloom in Joshua Tree National Park. With mild temperatures and stunning rock formations, it's a great time to explore the park's trails or try rock climbing. (See also: Unique Things To Do In Joshua Tree National Park)
Acadia National Park, Maine Acadia National Park offers a taste of New England charm with its rocky coastline, granite peaks, and wooded trails. Spring is an ideal time to visit, as the park is less crowded, allowing you to enjoy the beauty and serenity of the landscape fully. (See also: Unique Things To Do In Acadia National Park)
Zion National Park, Utah Marvel at the red rock canyons, waterfalls, and diverse plant life that come alive in the spring at Zion National Park. The park offers numerous hiking trails for adventurers, including the famous Angels Landing and The Narrows. (See also Unique Things To Do In Zion National Park)
Big Bend National Park, Texas With its vast expanses of desert, river canyons, and towering mountains, Big Bend National Park is a must-visit in the spring. This remote park boasts an incredible array of plant and animal species and a rich cultural history. (See also: Unique Things To Do In Big Bend National Park)
Olympic National Park, Washington This diverse national park offers a mix of coastal, rainforest, and alpine environments, making it a unique spring camping destination. Explore the rugged coastline, hike through the temperate rainforest, or ascend to the snow-capped peaks. (See also: Unique Things To Do In Olympic National Park)
Shenandoah National Park, Virginia Experience the beauty of the Blue Ridge Mountains in Shenandoah National Park. Spring is a great time to hike the many trails, enjoy scenic drives along Skyline Drive, and watch for wildlife such as deer, black bears, and wild turkeys. (See also: Unique Things To Do In Shenandoah National Park)
Everglades National Park, Florida Spring is the perfect time to explore the Everglades, as the weather is mild and the wildlife is active. Take a guided tour, paddle through the mangroves, or enjoy the unique ecosystem of this subtropical wilderness ( See also: Unique Things To Do In Everglades National Park).
Saguaro National Park, Arizona Witness the iconic giant saguaro cacti in full bloom during the spring at Saguaro National Park. With its desert landscape, fascinating wildlife, and captivating sunsets, this park offers a truly unique camping experience (Unique Things To Do In Saguaro National Park).
Grand Teton National Park, Wyoming The stunning Teton Range provides a breathtaking backdrop for your spring camping adventure in Grand Teton National Park. Enjoy the beauty of the mountains, hike through the blooming wildflower meadows, and watch for bison, elk, and other wildlife (See also: Unique Things To Do In Grand Teton National Park).
Remember always to practice Leave No Trace principles when camping, and check each park's website for information on reservations, permits, and any seasonal closures or restrictions.
Spring Camping Destinations in the Canda
Canada offers a wealth of stunning locations for spring camping, where you can enjoy the beauty of nature as it comes back to life after a long winter. Here are some of the top spring camping destinations across the country:
Remember that spring weather in Canada can be unpredictable, so pack appropriate clothing and gear for various conditions. Always check the park's website for information on campsite availability, reservations, and seasonal restrictions or closures.
Essential Spring Camping Supplies
When packing for your spring camping trip, there are certain essential supplies that you must include. With mild weather and unpredictable temperatures, bringing items that can keep you warm if the temperature drops is important.
Pack lots of layers: thermal underwear, heavy sweaters, a jacket or coat, and rain boots. You'll also need a sleeping bag designed for cooler temps; look for one rated at least 20 degrees below the average night-time low in your area.
Be sure to pack several flashlights with extra batteries, waterproof matches, and other fire-starting materials like lighters or flint sticks – these will come in handy should you find yourself camped out during inclement weather.
Don't forget a first aid kit! Include bandages, antiseptic wipes, pain relievers such as ibuprofen and acetaminophen, tweezers and scissors, insect repellent, sunscreen, and any medications you may need while away from home.
You're ready now to pick the perfect campsite so that you can enjoy the outdoors this spring season!
Picking The Perfect Campsite
Now that you've stocked up on the essential supplies for spring camping, it's time to pick a perfect campsite! Whether you're looking for an isolated spot in nature or a bustling campground surrounded by other adventurers, there are plenty of options for choosing your next camping destination. Here are some tips and tricks for picking the perfect campsite:
Scout out potential camping spots ahead of time – research campgrounds in Florida and read reviews online before committing to one.
Pitch your tent away from water sources – this will help keep pests away and provide additional peace of mind.
Consider group camping if traveling with friends or family – many campsites offer discounts for larger groups.
Look into horseback riding trails nearby – some parks have dedicated equestrian areas where you can explore the surrounding area while enjoying the outdoors.
Check local regulations regarding fire safety – although fires might be allowed depending on location and season, always double-check local rules so as not to cause any problems during your stay.
With all these considerations, it's time to start planning! From wooded national forests and sandy beaches to sprawling lakeside vistas, there's something special about every outdoor experience. For example, Blue Spring State Park is located near Orlando, offering beautiful views and excellent fishing opportunities on-site. So pack up the car and get ready—you never know what awaits around the corner at your next camping adventure!
Spring Camping At Blue Spring State Park
Blue Spring State Park is the perfect Florida Springs camping destination for a spring getaway. Camping in the spring here offers visitors access to some of the most stunning natural springs around, including its namesake Blue Spring, one of the largest freshwater springs in the world! With crystal clear water and abundant wildlife, this park has something for everyone – whether you're looking to take a peaceful swim or explore nearby trails on foot.
Campers can also enjoy plenty of amenities while visiting Blue Spring State Park, including picnic areas and full-service campgrounds with electricity and running water. There are even places to rent kayaks and boats to make your trip extra memorable. And don't forget about fishing either – it's allowed at designated spots throughout the park!
The best part about camping at Blue Spring State Park? You won't have to worry about crowds or noise – just peace and quiet as you soak up all that nature has to offer. From swimming in refreshingly cool waters to strolling along wooded trails, there's no shortage of things to do here during your stay.
So what are you waiting for? Pack your bags and head out for an unforgettable experience at one of Florida's finest parks! With these tips in mind, you're sure to have an amazing time spring camping at Blue Spring State Park. Ready for more adventure? Look into other great Florida Springs destinations for your next camping excursion.
The Best Florida Springs For A Camping Destination
Ready to explore the beautiful springs of Florida? Here are some of the best spots for camping near natural springs in Florida. Ginnie Springs is a great starting point and an ideal spot for swimming, snorkeling, and diving. With crystal clear waters and lush vegetation, it's easy to see why this spring is so popular with campers. Its seven-acre grounds make it perfect for spending time outdoors and enjoying nature at its finest.
Kelly Park is another top destination for outdoor enthusiasts looking to enjoy the beauty of Florida's natural springs. Visitors will find plenty of shaded campsites as well as rock formations that can be explored on foot or by kayak. There are also wild horses roaming around, making Kelly Park a truly unique experience! Rock Springs offers visitors a chance to cool off in its clean spring water while admiring the stunning surroundings.
It's one of the most picturesque spots in all of Florida, with plenty of fishing and wildlife viewing opportunities. You won't be disappointed when visiting Rock Springs alone or with friends and family! From Ginnie Springs to Kelly Park to Rock Springs, there are plenty of options when it comes to experiencing some of the best camping destinations in Florida.
So why not take advantage of this opportunity to explore nature, relax, and discover something new? All you need now is some preparation for mosquitoes and ticks – but don't worry! We have just what you need…
Planning For Mosquitoes And Ticks
The season of new beginnings is finally upon us! As we wave goodbye to the chilly winter months and embrace the warm sunshine of spring, there's no better time than now for planning a camping trip.
But before you hit the trail, you must consider some key factors in advance—mainly when keeping the bugs at bay. Mosquitoes and ticks can quickly ruin an otherwise perfect spring camping experience; however, with proper preparation, they don't have to be a problem.
First off, scout out your campsite ahead of time to see if there are any standing bodies of water nearby or areas where mosquitoes may breed. If so, choose another site–preferably one near windy terrain or away from wooded areas.
Next, please get familiar with local bug populations by researching what types of mosquitoes and ticks live in your area as well as their peak seasons. Knowing this information will help you plan accordingly and prepare for potential pests.
Finally, stock up on insect repellent explicitly formulated for both species such as DEET-based products or natural essential oil sprays like citronella or lemon eucalyptus oil. By following these tips during your spring camping planning process, you'll be sure to keep those pesky critters at bay while enjoying all that nature has to offer!
Keeping Warm During Chilly Nights
Spring camping can be a tricky time to stay warm. With the cold ground and chilly spring nights, campers need to prepare for possible inclement weather. Fortunately, there are many ways to keep warm while RV camping during this transitional season.
The first step is to find an ideal campsite with a heating source, such as a heated swimming pool or hot tub. This will allow you to enjoy springtime camping without worrying about being too cold at night. Additionally, if your campsite doesn't provide any heat source, bringing extra blankets and layers of clothing can help keep you cozy throughout your trip.
Investing in quality sleeping bags designed for cooler climates is essential for those planning tent camping in the early spring months. Other accessories such as camp stoves and fire pits can help provide warmth while out in the woods. For RVs, ensuring all windows and doors are sealed properly before bedtime can make a huge difference when trying to retain heat overnight.
No matter what type of camping style you choose, staying warm during these cool spring nights is key to making sure you have an enjoyable outdoor experience! From investing in the right gear to finding a comfortable campsite with amenities like pools or hot tubs; taking simple precautions can ensure everyone stays warm and safe so they can focus on their next adventure instead!
Expectations For Temperatures And Weather Conditions
As the days grow longer and warmer, a sense of adventure bubbles up in us all. Now that winter has ended, it's time to start planning your spring camping trips! With temperatures rising and snow melting away, there are many new opportunities for exploration. Here are some tips and tricks on how to prepare yourself for temperature changes and weather conditions while out on the trails this spring.
First off, as you plan your trip make sure you pay attention to changing weather patterns. Be flexible with your plans if needed; be prepared for rain or snow showers depending on where you're headed. If you're heading south like Florida State Parks during early springtime camping, expect higher temperatures than normal.
It is always important to have the right equipment when going out into nature such as waterproof jackets or ponchos so you don't get caught in unexpected downpours! Likewise, bring plenty of layers with you if things cool off at night or during bouts of rain or snow.
Before setting out on any trail run consider looking at local forecasts and current conditions in order to understand best what kind of elements you may encounter along the way. The same goes for packing supplies: Bring provisions that can sustain both hot and cold climates incase Mother Nature throws her own curveball at you mid-trip. This includes bringing extra fuel sources such as firewood in case temperatures drop significantly overnight.
By following these simple tips and tricks before embarking on any spring camping excursion, one will find they are better prepared no matter what type of terrain they will face along their journey! Onward we go towards Ginnie Springs—a popular Spring getaway spot—ready to discover everything she has tucked away awaiting our arrival!
Ginnie Springs- A Popular Spring Getaway Spot
Ginnie Springs is a popular spring getaway spot for outdoor enthusiasts who want to enjoy the beauty of nature in all its glory. Located on the Santa Fe River in Gilchrist County, Florida, Ginnie Springs State Park is open year-round and offers visitors the chance to camp with their RV or tent, swim and snorkel among crystal clear springs, canoe downriver and so much more! Spring is a great time to visit Ginnie Springs; reservations can be made online and guests can take advantage of discounts during this season.
The scenery here is spectacular – from lush foliage to natural springs and rivers that snake through acres of wilderness, you'll never run out of things to do at Ginnie Springs. The area boasts some of the purest water in the world due to its location near an underground aquifer system providing crystal clear waters throughout.
Snorkeling and swimming are top activities while visiting, but there's also plenty of trails perfect for hiking or biking if you're looking for something more active.
It's easy to see why Ginnie Springs has become such a popular destination over the years – it truly has something for everyone!
Whether you want relaxation or adventure, this state park will provide whatever your heart desires. So pack up your gear and head off into the wilds of Florida; you won't regret it! With these memories tucked away in your pocket, you'll be ready for early spring camping tips to keep in mind as your journey continues.
Early Spring Camping Tips To Keep In Mind
It's time to say goodbye to the cold winter and hello to the warm spring season! Now is one of the best times of year for camping – when nature starts waking up from its slumber. Here are some tips on ensuring you get the most out of your early spring camping experience.
First, it's important to keep in mind that even though spring is still a bit chilly, there are plenty of ways to enjoy being outdoors. Look for campgrounds with amenities like water and electric hookups so you can stay comfortable during those cool nights. Make sure you reserve your spot ahead of time as many popular campsites fill up quickly this time of year.
Next, be mindful about staying dry while camping in wet conditions. Investing in quality rain gear such as waterproof pants and jackets will help ensure you don't feel miserable due to bad weather. Bring an extra pair of shoes or boots too, since walking around muddy grounds can ruin otherwise good footwear. Also consider bringing along tarps or shelter systems designed specifically to keep yourself dry no matter what Mother Nature throws at you!
Finally, always check local fire restrictions before heading out into the wilderness as they often change depending on the season and climate. You want to make sure that any fires you build are safe and legal so all your outdoor adventures go off without a hitch! With these tips in mind, let's start thinking about what we must consider before packing up and camping this spring.
Check the Weather Forecast
Before you hit the road for spring camping, checking the weather forecast is crucial. Unpredictable weather patterns like heavy rain, wind, or snowfall can make your camping trip miserable.
Depending on your location, additional items like petrol, propane, blankets, and tarps may be necessary, particularly if you are camping in the US Pacific Northwest. It is worth investing in a four-season camping tent in colder climates.
Sleeping bags with a temperature rating can help you choose one that will keep you warm in the cool spring air. Don't forget to check and restock your first aid kit, and pack sufficient water and non-perishable foods. Camping in spring can be an enjoyable experience if proper preparation is done.
Spring Temperatures & Spring 2023 Weather Predictions for the United States
Before heading out on a spring camping trip, it's essential to check the weather forecast for your specific destination. Spring weather patterns in the US can be unpredictable, so preparing for various conditions is essential. Be sure to pack appropriate clothing and items for the forecasted weather.
Spring 2023 Weather Predictions for the United States
The spring weather predictions for the United States in 2023 are based on historical data, current weather patterns, and meteorological models. Please note that these are only predictions and actual weather conditions may vary.
Northeast (New England, Mid-Atlantic): This region can expect a relatively mild and wet spring, with temperatures slightly above average. Rainfall is predicted to be higher than average, which could lead to an increased risk of flooding in some areas. Residents can expect an early start to the growing season, with warmer temperatures arriving in late March and early April.
Southeast (South Atlantic, East South Central): The Southeast region is predicted to experience warmer than average temperatures, with above-normal rainfall, especially in the coastal areas. Humidity levels may also be higher than usual, leading to a muggy and uncomfortable season for many. The increased precipitation may increase the risk of severe storms and flooding.
Midwest (East North Central, West North Central): The Midwest region is expected to see near-normal temperatures and precipitation during spring. However, some areas may experience periods of cooler temperatures and heavier rainfall, leading to an increased risk of flooding. Severe weather, including the possibility of tornadoes, is also a concern in this region, especially during the months of April and May.
Southwest (West South Central, Mountain): Warmer and drier than average conditions are expected in the Southwest. Drought conditions may continue or even worsen in some areas, increasing concerns for water resources and potential wildfires. Despite the overall drier conditions, the region may still experience some isolated severe storms, particularly in the southern portions.
West Coast (Pacific): The West Coast can expect mixed weather conditions this spring. Northern California and the Pacific Northwest are predicted to see near-average temperatures and precipitation, while Southern California may experience warmer and drier conditions. This could exacerbate ongoing drought and wildfire concerns in the southern part of the state.
Alaska: Alaska is predicted to experience slightly warmer than average temperatures this spring, with near-normal precipitation levels. Coastal areas may see increased rainfall, while the interior regions will likely experience a more typical spring season.
Hawaii: Hawaii can expect a relatively normal spring season in 2023, with temperatures and precipitation levels close to average. Occasional rain showers are expected, but the weather should be pleasant and conducive to outdoor activities.
These predictions should be considered general guidelines, and keeping an eye on local forecasts and weather updates as the season progresses is always recommended.
As the spring season progresses in the United States, residents can expect varying weather conditions that can impact daily life and outdoor activities. Below, we provide some additional insights and tips to help you prepare for and enjoy the spring weather in 2023.
Allergy Season: With the arrival of spring comes the inevitable allergy season, which can be particularly challenging for those with pollen allergies. The pollen count may be higher than usual in regions with above-average rainfall. Monitoring local pollen forecasts and taking necessary precautions, such as using allergy medications and minimizing exposure to allergens on high-pollen days is essential.
Gardening and Landscaping: Spring is an ideal time for gardening and landscaping projects. In regions with warmer and wetter conditions, the growing season may arrive earlier than usual, providing an opportunity to plant and cultivate various flowers, vegetables, and fruits. However, being aware of potential flooding and drought risks in your area is crucial, as these can significantly impact your gardening efforts.
Outdoor Activities and Events: As temperatures rise and the days become longer, people across the country will be eager to enjoy outdoor activities and events. Whether you are planning a picnic, hike, or outdoor sports event, it is crucial to monitor the local weather forecast and be prepared for potential weather-related challenges, such as storms or high humidity.
Emergency Preparedness: With the possibility of severe storms, flooding, and even tornadoes in some regions, it is essential to be prepared for emergencies. Create a family emergency plan, stock up on essential supplies, and ensure you have access to weather alerts and updates. In areas prone to wildfires, be aware of the risks and take necessary precautions to protect your property and maintain defensible space around your home.
Travel Planning: Spring can be a popular time for vacations and weekend getaways. When planning a trip, consider the weather conditions in your destination and potential weather-related travel disruptions. Always check the forecast before embarking on a journey and pack appropriate clothing and supplies to ensure a safe and enjoyable experience.
Remember that weather predictions are subject to change, and it is always a good idea to keep an eye on local forecasts for the most accurate and up-to-date information. By being prepared and staying informed, you can make the most of the spring season and enjoy all it offers.
Spring weather in the US can vary greatly depending on location and elevation. Prepare for rain by bringing waterproof boots, a jacket, towels, dry bags, and tarps. It's also important to consider the temperature differences between morning and night when packing.
Be sure to check the forecast for your specific destination and elevation for the most accurate weather predictions. This will allow you a safe and enjoyable spring camping trip without being caught off guard by unexpected weather conditions.
Spring Weather Predictions for Canada
Spring in Canada is a perfect time to go camping and immerse yourself in the beauty of nature. However, spring weather can be unpredictable. To make the most of your trip, it's important to check the weather forecast before you go camping. This will ensure that you are prepared for any conditions on your trip.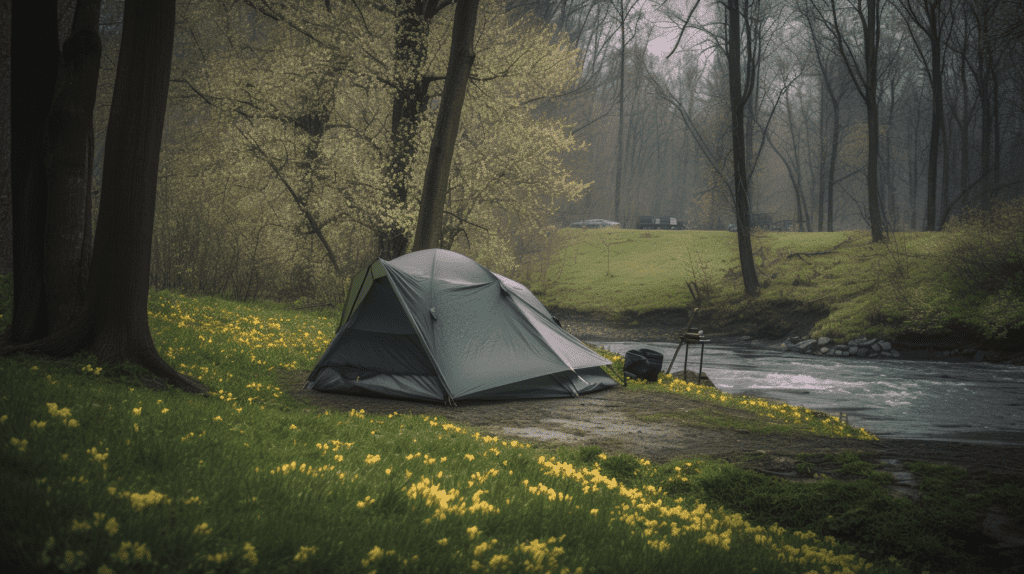 Spring Temperatures & Spring Weather Predictions for Canada – 2023
These predictions are based on historical trends, patterns, and the most recent available climate models. Actual weather conditions may vary, and it is always recommended to check local forecasts for the most accurate information.
Atlantic Provinces (Newfoundland and Labrador, Prince Edward Island, Nova Scotia, and New Brunswick)
The Atlantic provinces can expect a relatively mild and wet spring this year. Temperatures are expected to be slightly above average, with the warmest conditions likely to occur in May. The region may experience heavier-than-normal precipitation, increasing the risk of flooding in low-lying areas. Fog and coastal storms may also be more frequent this season.
Quebec
Quebec's spring is predicted to be cooler and wetter than average, particularly in the southern regions. This could result in prolonged winter-like weather for parts of the province, with a risk of late-season snowfall. However, warmer temperatures are expected to arrive by late April or early May, gradually transitioning to more typical spring conditions.
Ontario
Ontario is expected to see near-average temperatures during the spring, with some fluctuations between cooler and warmer periods. Precipitation is likely near or slightly above average, especially in the southern regions. This could increase the risk of localized flooding, particularly in urban areas with poor drainage systems.
Prairies (Manitoba, Saskatchewan, and Alberta)
The Prairie provinces are forecasted to experience a warmer-than-average spring with below-average precipitation. This may lead to an increased risk of drought and wildfires, especially in areas with limited snowpack from the winter months. Farmers in the region should be prepared for potentially challenging growing conditions, and residents should be vigilant about wildfire safety.
British Columbia
British Columbia is predicted to have a relatively mild spring, with near-average temperatures and precipitation. Coastal regions may experience periods of heavy rainfall, while the interior will likely have a more balanced mix of rain and sunshine. The risk of flooding and landslides may be higher than usual in some areas, especially those affected by recent wildfires.
Northern Territories (Yukon, Northwest Territories, and Nunavut)
The Northern Territories can expect a cooler and wetter spring than average. This may result in a delayed onset of warmer temperatures and slower-than-normal snowmelt. Communities in these regions should be prepared for potential transportation and infrastructure challenges due to the extended winter conditions.
In conclusion, spring 2023 is expected to bring a mix of weather conditions across Canada, with some regions experiencing milder conditions and others facing more challenging weather patterns. As always, it is essential to stay informed about local forecasts and be prepared for any weather-related emergencies that may arise.
As we continue to discuss the spring weather predictions for Canada in 2023, it's important to recognize the potential impacts of these forecasts on various aspects of daily life, from agriculture and outdoor activities to infrastructure and emergency preparedness.
Agriculture
The mixed weather conditions across Canada may positively and negatively affect agriculture. In areas with above-average precipitation, such as the Atlantic provinces and Quebec, the increased soil moisture could benefit certain crops, potentially causing planting delays for others.
Conversely, the drier conditions in the Prairie provinces may lead to drought, soil moisture, and irrigation concerns. Farmers should closely monitor local forecasts and adapt their planting and crop management strategies accordingly.
Outdoor Activities and Tourism
The varying weather patterns across Canada may also impact outdoor enthusiasts and the tourism industry. In regions with milder spring conditions, such as British Columbia, outdoor activities like hiking, camping, and cycling may be more enjoyable earlier in the season.
However, winter sports like skiing and snowboarding may be extended in areas experiencing cooler temperatures and prolonged winter-like weather, such as Quebec and the Northern Territories. At the same time, the start of the spring and summer tourism seasons could be delayed.
Infrastructure and Emergency Preparedness
The spring weather predictions for 2023 highlight the importance of infrastructure maintenance and emergency preparedness across Canada. Regions with an increased risk of flooding, such as the Atlantic provinces and parts of Ontario, should prioritize flood prevention measures and ensure drainage systems function optimally.
Residents should be prepared with evacuation plans and emergency supplies in areas where wildfires, such as the Prairie provinces, may be a concern. At the same time, local governments should focus on wildfire prevention and response strategies.
Climate Change Considerations
Recognizing that ongoing climate change may influence these weather patterns is essential. As global temperatures continue to rise, extreme weather events and fluctuations in seasonal patterns are likely to become more common. This underscores the importance of climate change mitigation and adaptation strategies to help minimize the impacts on communities, ecosystems, and economies across Canada.
In summary, the spring weather predictions for Canada in 2023 suggest a range of conditions across the country, with some regions experiencing milder weather while others may face more challenging conditions. Individuals, businesses, and governments must be aware of these forecasts, plan accordingly, and remain adaptable to the changing weather patterns in their regions.
When packing for your trip, be sure to pack the appropriate gear. Spring camping requires layers of clothing, waterproof gear, and a warm sleeping bag. It's also important to know the safety tips for camping in the spring, which include staying hydrated, being aware of allergies, and learning how to set up your tent properly.
Despite the challenges of spring camping, it is a rewarding experience. Don't forget to take pictures and memories of your trip, and enjoy Canada's beauty.
Prepare for an unforgettable outdoor experience exploring wildflowers in bloom and enjoying wildlife sightings galore!
Exploring The Wildflowers In Bloom
Spring is the perfect time to go camping and explore the wildflowers in bloom. With campgrounds close and the great outdoors calling, now's the time to grab your gear and hit the trails! The beauty of springtime in nature can't be beat. From carpets of colorful blooms to breathtaking views, a day hike through wildflower season will take you away from it all.
Pack some snacks for lunch before setting off on your adventure – there are plenty of places where you can relax and enjoy the scenery. And don't forget your camera! Capturing photos of these stunning flowers against a backdrop of lush green hillsides is sure to create memories that last a lifetime.
Wildflowers
Wildflowers, nature's vibrant jewels, are integral to ecosystems and landscapes worldwide. These beautiful and diverse plants add color and life to their surroundings and play a crucial role in sustaining various forms of wildlife. As the harbingers of spring, wildflowers create a captivating tapestry of colors and scents, providing a visual feast for nature lovers and outdoor enthusiasts alike.
There are thousands of wildflower species, each with its unique characteristics, such as size, shape, color, and fragrance. Some of the most well-known wildflowers include sunflowers, lupines, poppies, daisies, and bluebonnets. These plants thrive in a wide range of habitats, from alpine meadows and desert landscapes to lush forests and grasslands.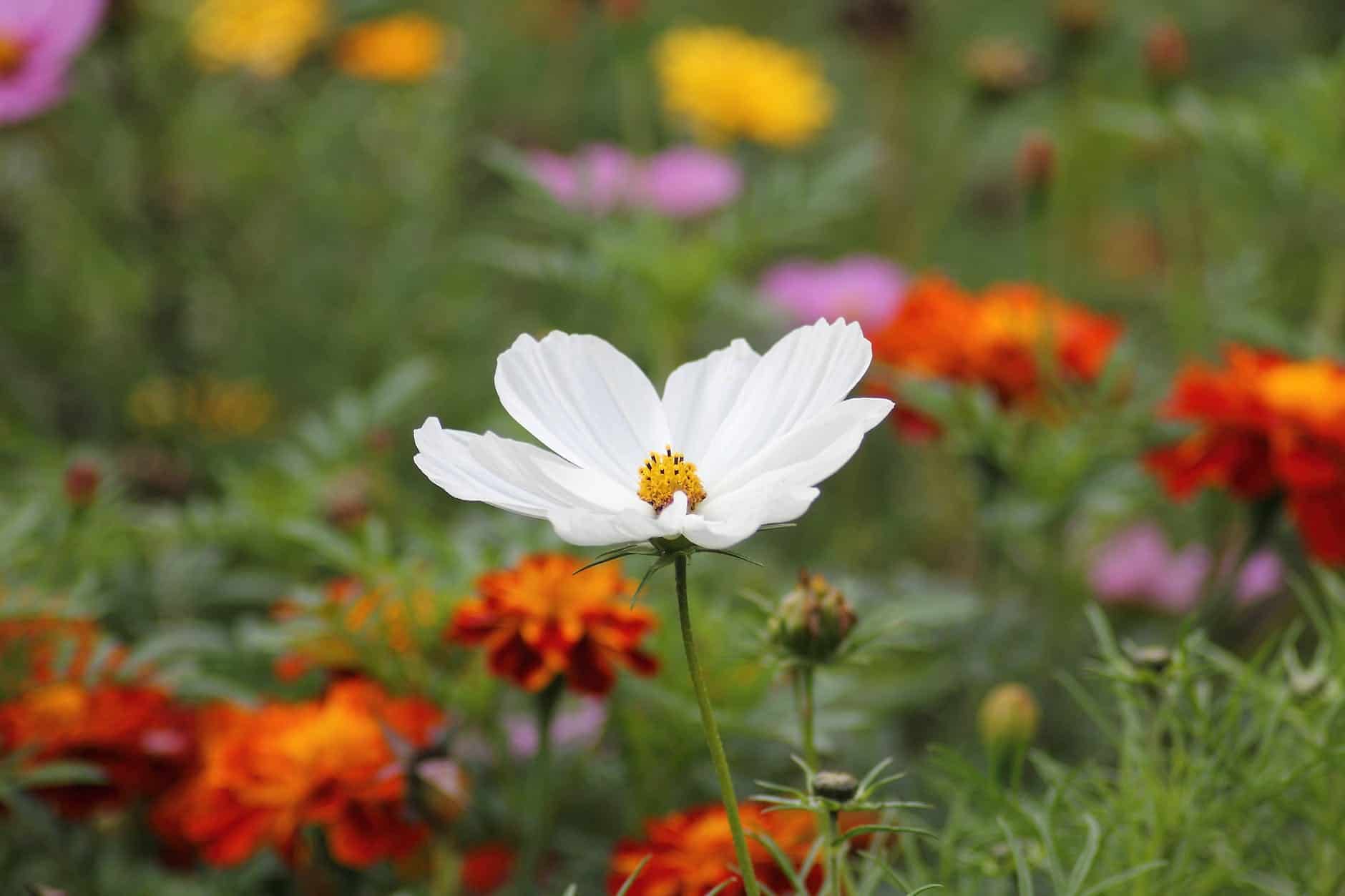 Wildflowers attract and support pollinators like bees, butterflies, and hummingbirds, which are essential for pollinating various crops and native plants. This process is vital for the health of ecosystems, as it helps produce fruits, seeds, and nuts that other animals and humans consume.
Conservation and preservation of wildflower habitats are essential to maintain the balance and diversity of ecosystems. Many organizations and individuals work tirelessly to protect these precious resources through habitat restoration, sustainable land management practices, and public education. Wildflower enthusiasts can also contribute to conservation efforts by planting native wildflowers in their gardens or participating in local wildflower walks and events.
Photographing and admiring wildflowers responsibly is an enjoyable way to connect with nature and appreciate its beauty. While exploring wildflower habitats, remember to leave no trace, avoid trampling on delicate plants, and never pick wildflowers from protected areas. By doing so, you help ensure that these natural treasures continue to flourish and delight future generations.
Spring Wildflowers
Spring wildflowers are a spectacular and much-anticipated aspect of the season as they emerge from their winter dormancy to grace landscapes with their vibrant colors, delicate petals, and alluring fragrances. These botanical wonders signal the arrival of warmer weather and longer days, imbuing the environment with a sense of renewal and rejuvenation.
Spring wildflowers can be found in diverse habitats, from mountain meadows and woodland floors to prairies and deserts. Each region has its unique collection of wildflowers that burst into bloom, creating a kaleidoscope of hues and textures that captivate nature enthusiasts and casual observers alike.
Some iconic spring wildflowers found in various regions include:
Bloodroot (Sanguinaria canadensis): A native to eastern North America, Bloodroot features white petals surrounding a golden-yellow center. This early spring wildflower is often found in deciduous forests and along riverbanks.
Bluebells (Hyacinthoides non-scripta): These bell-shaped, blue-violet flowers are a quintessential spring sight in woodlands across Europe and the British Isles. They form enchanting carpets of blue beneath the emerging tree canopy.
California Poppy (Eschscholzia californica): The state flower of California, these brilliant orange poppies adorn hillsides and valleys throughout the western United States during spring.
Cherry Blossoms (Prunus spp.): In Japan, the United States, and other countries, the arrival of cherry blossoms marks the beginning of spring. These delicate, pale pink flowers create a stunning display when in full bloom.
Dutchman's Breeches (Dicentra cucullaria): Resembling a pair of upside-down pantaloons, this unique wildflower is native to North American woodlands and features clusters of white or pinkish flowers.
Indian Paintbrush (Castilleja spp.): This striking wildflower, characterized by its vivid red, orange, or yellow bracts, is found throughout North America, particularly in the western regions.
Texas Bluebonnets (Lupinus texensis): A symbol of spring in Texas, these indigo-blue wildflowers carpet fields, roadsides, and hillsides, creating a breathtaking vista.
When admiring spring wildflowers, respecting their habitats and practicing responsible viewing is essential. Avoid picking the flowers or disturbing their surroundings, and adhere to local regulations and guidelines. Doing so contributes to preserving these natural wonders for future generations to enjoy.
Essential Spring Camping and Camping Gear for your Spring Campground
Spring camping is a delightful way to experience the great outdoors as nature comes back to life after a long, cold winter. To make the most of your spring camping adventure, it's important to be well-prepared with essential gear and knowledge. Here are some key elements to consider when planning your spring camping trip:
Layered Clothing: Spring weather can be unpredictable, with temperatures fluctuating throughout the day. Bring lightweight, moisture-wicking layers and warmer options like fleece or down jackets to accommodate varying conditions. Don't forget a waterproof and windproof outer layer to protect against unexpected rain showers.
Temperature-appropriate Sleeping Gear: Choose a sleeping bag with a temperature rating suitable for the nighttime lows you may encounter. A sleeping pad or air mattress will provide insulation and comfort from the cold ground.
Tent with Proper Ventilation: Spring camping can bring damp conditions and increased condensation inside your tent. Opt for a tent with good ventilation features, such as mesh panels and vents, to minimize moisture buildup and maintain a comfortable sleeping environment.
Rain Gear: Spring showers can pop up unexpectedly, so pack a reliable rain jacket and waterproof pants. Also, consider bringing a tarp or rain fly to create a dry outdoor living space near your tent.
Insect Protection: As the weather warms, insects become more active. Bring insect repellent, as well as long sleeves and pants, to protect against mosquitoes and ticks. A head net or bug net for your tent can be helpful in heavily infested areas.
Cooking Equipment: A portable camp stove, cookware, and utensils are essential for preparing meals during your spring camping trip. Remember to bring enough fuel for your stove, and always practice Leave No Trace principles when cooking and disposing of waste.
Navigation Tools: A map and compass, or GPS device, are crucial for navigating unfamiliar terrain. Familiarize yourself with the area you'll be exploring and keep track of your location to avoid getting lost.
First Aid Kit: Accidents can happen, so be prepared with a well-stocked first aid kit. Include items like bandages, antiseptic wipes, pain relievers, and any personal medications you may need.
Lighting: Bring a headlamp, flashlight, and spare batteries to navigate your campsite and trails in low-light conditions.
Emergency Supplies: A multi-tool, fire starter, and whistle are essential emergency items to have on hand. Also, consider bringing a lightweight emergency blanket and a portable battery charger for your phone or other devices.
By preparing with these essential spring camping items and staying aware of weather conditions, you'll be well-equipped to enjoy the beauty and serenity of nature's reawakening.
Lighting Up The Night With A Lantern
As night falls on the campground, a new set of challenges arise. Chilly temperatures and darkness can quickly sap any sense of comfort or safety. But with the right tools, you can turn your campsite into a warm oasis that glows in the dark.
A lantern is one essential tool for camping during colder months. Not only do they provide illumination and warmth, but they also make it easier to navigate around when nature calls in the evening hours! When choosing a lantern, consider its size and fuel source; you want something portable yet bright enough to light up the entire area. Make sure to check out all available options before settling on one- there are plenty of great choices depending on your needs!
| Benefits | Considerations |
| --- | --- |
| Portable | Size & Fuel Source |
| Bright Illumination | Cost & Weight Capacity |
| Heating Capabilities | Battery Life & Reliability |
Lighting Up The Night With A Lantern
With these tips in mind, selecting a lantern can be easy. Most importantly, you feel safe and secure while exploring in darker environments – whether it's hiking trails or picnicking at a nearby table. As spring camping season approaches with more warmer temperatures, don't forget about this key piece of gear for an enjoyable adventure!
Essential Gear For An Enjoyable Adventure
The best way to ensure that your spring camping trip is everything you want it to be is to plan ahead and pack the essential gear for an enjoyable adventure. When planning your spring camping trip, check the forecast months in advance so you can prepare accordingly. This will ensure that you have all of the necessary equipment such as tents, sleeping bags and mats, flashlights, cookware and more depending on where you go.
With a little bit of preparation before setting out, you'll be sure to bring along items like sunscreen, insect repellent, first aid kits and extra clothing layers. Dressing appropriately is also important – don't forget hats or sunglasses!
Good footwear is key too; if you know there may be wet areas around camp, waterproof boots are a must-have item. Additionally, non-perishable snacks are always good to have on hand in case hunger strikes between meals.
Check Your Equipment
While planning a spring camping trip, ensuring that all your equipment is in perfect working condition is essential. You should check all the equipment for any tears, holes, or other damage.
Check your tent for missing or broken parts and the presence of mold. Remember never to pack up a wet tent, as moisture can ruin the tent fabric. Stock up on extra layers of clothing, bring plenty of blankets, and keep your stuff in waterproof containers. You certainly don't want your camping trip feeling cold and miserable.
Check your stoves and other cookware to avoid any accidents due to malfunctioning equipment. Doing a thorough check of your equipment before leaving could ensure that you have a smooth and memorable spring camping trip.
Preparing for Your Camping Trip
Before embarking on your spring camping trip, it's important to check your equipment to ensure that you are fully prepared for the adventure ahead. Invest in high-performance camping gear tailored to colder, potentially wetter weather challenges, such as four-season tents, tarps, sleeping bags, sleeping pads, camping cots, hot water bottles, and tent stakes.
Packaging an emergency kit containing band-aids, antiseptic wipes, sterile gloves, gauze and ointments, and multi-tools such as a Swiss army knife is also key. Also, don't forget to bring nutritious and high-protein snacks such as nuts, hummus, trail mix, jerky, and energy bars.
Lastly, ensure that your tent and sleeping bag are water-resistant and suitable for cold weather. By following these tips and being prepared, you can enjoy a comfortable and safe camping experience transitioning from winter to spring.
How to Stay Healthy and Comfortable During Your Camping Trip
When planning a spring camping trip, you must be prepared to stay healthy and comfortable in potentially fluctuating temperatures. A critical aspect of this is planning your meals ahead of time to ensure that you're eating warm, nourishing, and hydrating foods. Bringing a reusable water bottle is also crucial to stay hydrated while camping.
Plan activities earlier in the day to take advantage of the daylight and adjust your schedule accordingly. Inspecting your gear before leaving is essential to ensure it's in good condition and won't fail you in the field.
Dressing in layers is another crucial tip to adjust to the changing temperatures throughout the day. Following these tips will ensure a safe and enjoyable camping trip in the spring.
Tips for Enjoying the Natural Beauty of Your Camping Trip
Before embarking on a spring camping trip, you must check your equipment to ensure you're fully prepared for the changing weather. If camping in colder climates, invest in a four-season camping tent and ensure your sleeping bag is rated for cooler temperatures.
Check your camping gear for holes or mold before you go, and pack meals that keep you warm during colder nights. However, don't forget to take the time to appreciate the natural beauty that surrounds you.
Go for a hike or take a scenic walk around the park to fully embrace the outdoor experience. Spring camping can be an excellent way to shake off the winter blues and welcome the warmer weather.
Bring a First Aid Kit
Camping is a great way to bond with nature and unwind after a long work week. However, preparing for the necessities is essential to make this experience safe and fun. One of the most important items to bring along is a well-stocked first aid kit, which should include band-aids, antiseptic wipes, sterile gloves, gauze, and ointments.
Pack a map, compass, waterproof gear, and plenty of food and water. Proper knowledge of how to use first aid materials is also advantageous.
A good emergency kit should have adhesive bandages, gauze pads, sterile wipes, hydrocortisone cream, hydrogen peroxide, tweezers, aspirin, and prescription medications. Always be prepared when camping because you never know what injuries or emergencies may arise.
Get Waterproof Matches
When going for a winter camping trip, it is essential to be well-prepared for the cold and wet weather; waterproof matches are a must-have.
Pack fire-starting items like dry paper or leaves and waterproof matches to ensure a safe and warm camping experience. Moreover, check your gear thoroughly, especially your tent, sleeping bags, and clothing.
Invest in high-performance, cold-weather camping gear to stay comfortable, warm, and dry throughout the trip. Wearing wool, synthetic layers, and a waterproof jacket and boots ensures you're layered and protected against cold and wet weather. With all this preparation, you can have an exciting and comfortable winter camping experience.
Invest in a Swiss Army Knife
A Swiss Army Knife is a versatile and durable tool for camping trips. It has various tools like blades, can openers, bottle openers, and screwdrivers, all in one compact package.
It can help you cut the rope, fix a broken utensil, open cans, and do many such simple camping chores you would need to do. Always ensure you carry the right gear and enough food for your journey. You should keep your campsite clean and well-organized to avoid any accidents with dangerous animals or insects and to help preserve the natural beauty that attracts you to go camping in the first place.
Also, enjoy the pleasant weather by opting for outdoor activities like hiking and fishing. A little planning and a Swiss Army Knife can ensure a smooth and safe camping trip for you and your loved ones.
A Tarp is Essential
If you're planning a spring camping trip, a tarp is a must-have item in your camping gear. A tarp can protect the bottom of your tent from mud, create a quick makeshift shelter, and protect your tent if it rains. It's a versatile camping essential that has many uses!
A tarp is indeed an essential item to have in your camping gear, especially during spring when the weather can be unpredictable. Not only does it provide protection and versatility, but it is also lightweight and easy to pack. Here are some of the key benefits of having a tarp during your spring camping adventure:
Groundsheet protection: Placing a tarp under your tent can help protect its floor from sharp rocks, sticks, and other debris. This added protection layer can prolong your tent's life and provide extra insulation from cold or damp ground.
Shelter from rain: Spring camping often means unpredictable weather and a tarp can quickly be transformed into a rain shelter. You can string it up between trees or poles to create a canopy that will keep your campsite and belongings dry during unexpected rain showers.
Shade from the sun: If you're camping in a sunny location, a tarp can provide much-needed shade for your campsite. By creating a shaded area, you can keep your tent and other belongings cooler, making your camping experience more comfortable during hot spring days.
Wind barrier: A tarp can also serve as a windbreak, offering protection from strong winds. By positioning it strategically, you can reduce the wind chill factor in your campsite and make your outdoor living space more comfortable.
Makeshift picnic blanket: A tarp can be used as a picnic blanket or a clean surface for cooking and eating. This is particularly useful in spring when the ground may still be damp or muddy from recent rains.
Emergency shelter: In case of an emergency or unexpected situation, a tarp can be transformed into a makeshift shelter to protect you from the elements. This can be especially important if you're camping in a remote location and need temporary protection.
In conclusion, a tarp is an essential piece of camping gear for your spring outdoor adventures. Its versatility, lightweight design, and ease of use make it a must-have item for any camper. Be sure to pack a tarp on your next camping trip and enjoy its added protection and convenience.
Take a Lantern, Flashlight, or Headlamp
When camping in spring, it's always a good idea to pack a light source such as a lantern, flashlight or headlamp to ensure visibility in the early morning and late evening. A torch is also recommended for lighting up the evenings under the stars.
Pack extra batteries for all of these to keep them functional throughout your trip. Waterproof containers will come in handy when camping in spring as unexpected spring showers or dew may dampen your clothes or equipment. It's best to carry an extra tarp to cover your gear and shelter you from the wet conditions.
With proper planning and packing, you can say goodbye to winter and enjoy spring camping to the fullest.
Don't Forget the Insect Repellent
When planning a springtime camping trip, remember to bring insect repellent to keep mosquitoes and other bugs at bay. You can also wear pants and long sleeves, in addition to using mosquito nets and bug spray to provide extra protection.
Clean your campsite regularly and keep your camp kitchen free of food debris to decrease the chances of attracting pests. Remember to check your body for ticks when you return from camping because they can transmit diseases.
Mosquitoes are most active during the summer, but springtime camping areas can still have their fair share of mosquitoes, so be prepared with insect repellent.
Pack Warm Clothing
Spring is a tricky season for camping–it can be warm and sunny one minute and then chilly and wet the next. However, some tips and tricks can help make your spring camping experience more enjoyable. Pack warm clothing, such as breathable layers and jackets, for cooler days, and bring extra blankets to stay cozy during cold nights. Be sure to include hats, scarves, and extra socks to stay warm on colder days.
In addition to warm clothing, don't forget to bring rain gear and waterproof containers to keep yourself and your gear dry during those inevitable spring showers. You'll also want to pack light and breathable clothing for outdoor activities. These tips will help you stay comfortable and prepared during your spring camping trip.
Camping in The Spring
As we bid farewell to winter and embrace the rejuvenating warmth of spring, it's time to start planning your spring camping adventures! Discover the beauty of blooming spring wildflowers, the refreshing waters of freshwater springs, and the perfect spring temperatures as you embark on a memorable outdoor escape.
In this article, we did reveal 30 tips and tricks that will elevate your camping experience and make it truly unforgettable. We've got you covered from exploring the best Florida springs to finding those hidden gems amidst nature's blossoming canvas. So, pack your bags, assemble your gear, and get ready to say goodbye to winter and hello to an unforgettable spring camping experience!
What To Consider Before You Pack Up And Go
As the snow melts away and flowers start to bloom, we can't help but feel ready to start planning our next outdoor adventure. With so many options available for camping this spring, there is something for everyone! Before you pack up your gear and hit the road, a few things should be kept in mind.
When deciding where to camp, the first thing to consider is what type of park or popular campground you want to include on your trip. Are you looking for a secluded spot with gorgeous views? Or do you prefer an area close to amenities like restaurants and stores? Do research ahead of time about the different places near you, as well as any permits that may be required. This will ensure a smooth transition from one destination to another.
Once you have narrowed down your list of potential campsites, it's important to think through all the necessary items for a successful camping trip. Bring along plenty of snacks, water bottles and other essentials like insect repellent and sunscreen. Additionally, while it might seem counter-intuitive, don't forget electronics such as flashlights and portable chargers. These items can make life easier if unexpected circumstances arise during your journey.
Keeping these tips in mind no matter how far off the beaten path you decide to go this season will guarantee an enjoyable experience beneath the stars!
Frequently Asked Questions
What Is The Best Type Of Tent For Spring Camping?
Ahh, spring camping! The leaves are blooming and the sun is shining – what could be better? It's time to get outside, enjoy nature, and make some amazing memories. But before you set off on your adventure, there's one important question: What is the best type of tent for spring camping?
The answer isn't so cut-and-dry; it depends largely on where you're going and how many people you'll be bringing along. For instance, if you're heading out with a large group or need extra space to store gear, then an 8-person tent may be the way to go. However, smaller tents like pop-ups or backpacking models can offer more flexibility in terms of weight and portability.
No matter which tent you choose though, some key features will ensure comfort and convenience during your trip. Look for waterproof materials (like polyester or nylon) as well as breathable mesh netting for proper ventilation. Floorless designs can also help save weight while protecting from moisture on the ground. Finally, UV coatings provide an added layer of defense against damaging rays from the sun.
When shopping around for a new tent this season, consider these tips to find the perfect fit for all your outdoor needs. With just a bit of research and preparation beforehand, you'll have no trouble finding the right home away from home when embarking on your next spring camping excursion!
How Can I Ensure My Safety While Camping In The Spring?
Ah, spring camping! Nothing quite compares to the feeling of waking up in nature and basking in the warm sunlight. But with this new season comes a host of safety concerns you must consider before embarking on your adventure. Here's how to make sure you're safe while camping in the spring:
First, it's important to have the right tools for any outdoor activity. Investing in quality gear is essential; look for items like waterproof tents, sleeping bags designed specifically for cold weather, and insect repellent made from natural ingredients. Additionally, bring along some basic first aid supplies just in case something goes wrong during your trip.
Once you've got all your equipment ready, it's time to start planning ahead so you can stay as safe as possible. Here are a few tips for doing so:
Map out Your Campsite: Before setting up camp, make sure you know exactly where you'll be staying each night and plan routes accordingly if an emergency or bad weather is expected. Make sure to check local regulations about fire restrictions too!
Be Aware of Wildlife: Be mindful of wildlife around your campsite – they may not be aware that humans are present so it's best to keep a respectful distance when possible. Follow bear safety protocols whenever necessary and pay attention to signs of danger such as animal tracks near your tent or food scraps left behind by previous visitors.
Know the Weather: Springtime can bring unpredictable weather patterns which can cause problems if not prepared properly – always keep an eye on the forecast and pack appropriately (rain gear/sunscreen/etc.) depending on what might come your way!
By being well-equipped and taking steps towards proper preparation, you can feel confident knowing that no matter what happens during your spring camping trip – you're ready for anything! With these simple safety tricks under your belt, nothing will stand between you and enjoying some much needed fresh air after months cooped up indoors. So go forth into nature with peace of mind – happy trails await!
How Can I Keep My Food Fresh While Camping In The Spring?
As the days get longer and warmer, spring camping is a great way to ditch the indoor doldrums. But they are keeping food fresh while out in nature can be tricky! To ensure your meals stay appetizing during any outdoor adventure, it's important to plan ahead – here are some tips for making sure you don't end up with spoiled grub.
First things first; having the right kitchen gear on hand makes all the difference. Pack an insulated cooler packed with ice or frozen gel packs to keep perishable items cold and safe from spoilage. If you're planning on staying awhile, bring along a freezer bag that can be filled with water and frozen overnight – this will help keep everything chilled as long as possible when there isn't access to electricity.
And if you're looking for something even more convenient, check out battery-operated portable coolers – they'll easily fit into tight spaces and require no ice at all!
When packing food for your trip, make sure to use airtight containers wherever possible – this prevents moisture from getting in and ensures nothing goes stale too quickly. Be mindful of perishables like dairy products; these should always go into separate bags so they won't contaminate other items if anything spoils prematurely.
It also helps to pre-portion snacks and meals before leaving home; this eliminates extra packaging which takes up space and adds weight (not ideal for backpacking!). Finally, don't forget about condiments like ketchup, mustard and mayonnaise – these need refrigeration just like anything else once opened!
No one wants soggy sandwiches or lukewarm dinners when venturing outdoors! With proper planning and a few easy tricks, you'll have delicious eats throughout your camping trip without worrying about food going bad. So stock up on supplies, load those coolers, and prepare for an awesome springtime adventure!
What Are The Best Ways To Conserve Water While Camping In The Spring?
As the old adage goes, "Nothing compares to nature's beauty" and it is especially true when camping in springtime. Spring camping brings with it a unique set of challenges, like conserving water while still enjoying all that nature has to offer. To help you out, here are some tips on how to conserve water while camping in the spring.
First and foremost, bring along only as much drinking water as you need for your trip. Pack reusable containers or canteens so you can refill them at safe sources instead of buying one-use plastic bottles. If possible, find natural springs nearby where you can fill up on clean drinkable water – make sure these places aren't subject to contamination from other campers or animals!
Once you've filled up your containers, be mindful about using too much each day. You can use leftover washing-up or cooking water for cleaning yourself off after getting muddy without wasting fresh drinking water unnecessarily.
Another great way to save on water is by taking shorter showers than usual or even skipping them altogether – this isn't a bad idea during hot weather anyway! Instead of showering every morning and night, try switching things up by having quick sponge baths with warm washcloths if necessary.
Waste less by collecting any greywater (the wastewater generated from activities such as dishwashing) and pour it into biodegradable bags before disposing of it away from campsites and waterways.
Additionally, investing in solar-powered devices like mobile showers can go a long way towards helping campers enjoy their time outdoors while also being conscious stewards of the environment around them.
By following these suggestions and creating good habits around managing our resources wisely, we can ensure that future generations get to experience the same joys of outdoor adventure that we do today!
How Can I Stay Safe From Wild Animals While Camping In The Spring?
Ah, spring camping! With the weather warming up and nature coming alive after a long winter, there's nothing quite like spending time outdoors. But with wild animals around, it's important to make sure you stay safe while exploring on your trip. Here are my top tips for keeping yourself out of harm's way when venturing into nature this season.
First off is doing your research before heading out: familiarize yourself with the area you plan to camp in and check if local authorities have issued any recent animal sightings or warnings. Knowing what kind of wildlife might be lurking around will give you an idea of how best to prepare – whether that means bringing bear spray or avoiding certain trails during particular times of day.
Next is taking preventative measures once you're at the campsite itself; never leave food or trash lying around as this can attract unwanted visitors! And use common sense when travelling through brushy areas such as making noise so animals know you're nearby – clapping hands loudly or singing a song works well.
Finally, always stick together with people in your group no matter where you go; not only does this increase safety but also gives you more eyes to look out for potential danger from curious critters who may come too close for comfort.
The key thing here is to remain alert and aware throughout your journey – these few simple steps will help ensure that both humans and animals enjoy their peaceful coexistence in nature without any surprises along the way!
Conclusion
Spring camping can be the perfect way to usher in the season of renewal and growth. With the right planning, tools and some insider tips and tricks, you can have a comfortable and memorable experience camping in the great outdoors.
Remember to bring essential gear, plan for the weather, and check the forecast before heading out for your trip. Invest in a Swiss Army Knife, and waterproof matchsticks, and don't forget to pack warm clothing to keep you cozy during those chilly nights. If you want more camping ideas, explore our blog to get inspired for your next adventure.