Cooking while camping can be a fun and rewarding experience, as long as you have the right tools. A camp kitchen is essential for anyone who wants to cook on their camping trip. In this blog post, we will discuss the items that you need to assemble a functional camp kitchen. By following our tips, you will be able to cook your favorite meals while enjoying the great outdoors!
Camp Kitchen
A well-stocked kitchen is essential for any camping trip. But with a little planning, it's easy to put together a kitchen kit that has everything you need to cook up a feast. Start by considering your menu. You'll need at least two pot sizes, a griddle, and a skillet, as well as some mixing bowls and cooking utensils.
A cutting board is also very handy. Once you've got your list of essentials, you can either purchase these items or borrow them from your home kitchen. With a little careful packing, you'll be all set to enjoy some delicious campfire meals.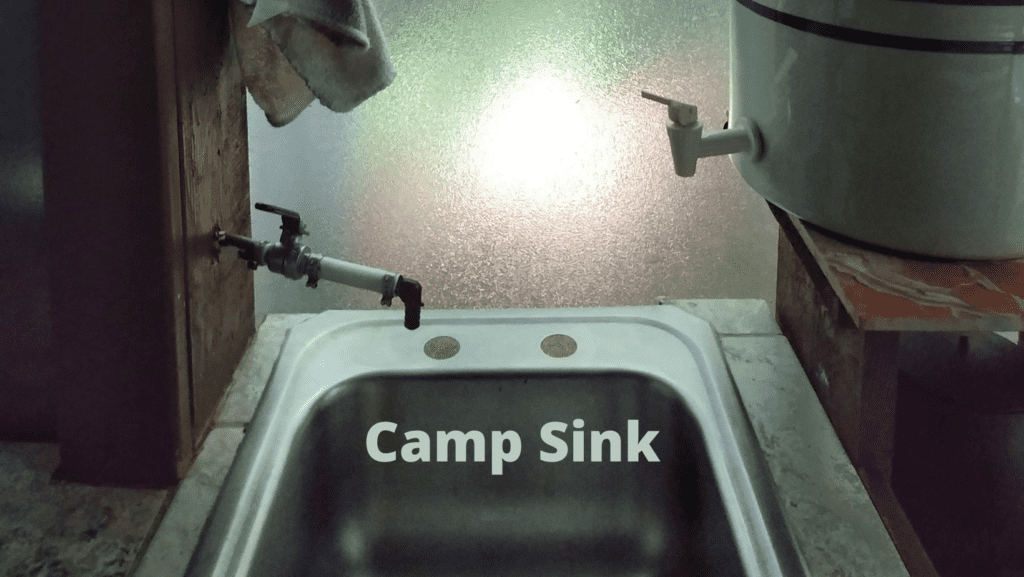 Plan to Grill
While planning for your camping trip, don't forget the most important part – the food! You'll need to bring along a few key items to make sure you can whip up your favorite meals. First, if you plan on doing any grilling, be sure to bring a grate that you can put over the fire.
Looking for a versatile and powerful camping grill? The Coleman Gas Camping Grill/Stove is perfect for cooking up your favorite meals while you're enjoying the great outdoors. With two adjustable burners, this grill/stove provides precise temperature control, while the wind-blocking panels help shield your food from the elements. The push-button ignition makes lighting quick and easy, and the pressure regulator ensures consistent performance, even in extreme conditions. Best of all, the stovetop is designed to fit a 10″ pan, so you can easily cook breakfast, lunch, or dinner. The Coleman Gas Camping Grill/Stove is a must-have for any camper or outdoor enthusiast.
Many campsites don't have them, and you don't want to be stuck without one. Also, make sure to pack all of the utensils and cookware you'll need, including a pot, pan, plate, and bowl for each camper. And don't forget the all-important can opener! Finally, make sure you have enough non-perishable food to last the entire trip. By following these simple tips, you'll be sure to have a delicious camping trip!
Pots and Pans
If you're planning a camping trip, one of the first things you'll need to do is choose the right pots and pans. To save space, many campers opt for a nested set, which includes a variety of pots that can be stored inside one another.
When it comes to material, there are five main options: aluminum, cast iron, stainless steel, titanium, and ceramic. Each material has its own advantages and disadvantages. Aluminum is lightweight and conducts heat well, but it's also susceptible to denting and scratches. Cast iron is durable and treated with a coating that makes it non-stick, but it's also heavy and takes longer to heat up.
Stainless steel is durable and easy to clean, but it doesn't conduct heat as well as other materials. Titanium is strong and conducts heat efficiently, but it's also expensive. Ceramic is non-stick and heat-resistant, but it's also fragile. Ultimately, the best material for your needs will depend on your budget and how you plan to use your pots and pans while camping.
Enamel Cookware
Enamel cookware is a popular choice for many home cooks, thanks to its durability and easy-to-clean surface. But what exactly is enamel? Contrary to popular belief, the enamel is not a type of glass; it's actually a thin layer of steel that has been coated with a kiln-baked enamel finish.
This tough finish is resistant to scratches and stains, making it ideal for cooking and serving food. However, the enamel coating can chip over time, exposing the underlying steel to oxygen and moisture, which can cause rusting.
While chips and indentations may spoil the aesthetic of your cookware, they won't impact its performance. So if you're looking for attractive and long-lasting cookware, enamel might be the right choice for you.
Aluminum Cookware
Aluminum is a highly versatile material that has a wide range of uses, from cookware to airplane parts. It is well-known for being lightweight and conductive, which makes it ideal for many applications. In the kitchen, aluminum is prized for its ability to distribute heat evenly, making it ideal for cooking. However, there have been some health concerns raised about aluminum cookware in recent years.
While these concerns are largely unfounded, they have led to the popularity of nonstick coatings on aluminum cookware. The major downside of aluminum is that burned-on foods can be very difficult to remove.
This is why nonstick coatings are such a good idea, as they make cleanup much easier. Overall, aluminum is a great choice for cookware, but be sure to choose a pan with a nonstick coating to avoid any headaches.
Stainless Steel Cookware
Stainless steel is a popular choice for cookware because it is extremely durable, cleans quickly and efficiently, and it won't scratch easily.
The downside is its inability to conduct heat evenly, leading to scorched food in the pattern of a stove's intense flame.
If you are using stainless steel cookware on a camp stove, be sure to use a diffuser plate to help distribute the heat more evenly. With proper care, your stainless steel cookware will last for many years and provide you with delicious meals while you are camping.
Titanium Cookware
When it comes to choosing cookware for camping, weight is often a major consideration. Titanium cookware is an excellent option for those looking for ultralight options, as it is much lighter than stainless steel.
However, titanium is also significantly more expensive. In addition, titanium is not as durable as stainless steel and can be more difficult to clean. As a result, titanium cookware may not be the best choice for everyone. Those who are not as concerned about weight may do better with stainless steel cookware, which is more affordable and easier to care for.
Bimetal Combinations Cookware
Bimetal combinations for camping are a great way to get the best of both worlds when it comes to cookware. These pots feature an aluminum outer layer that is durable and provides good heat distribution.
The stainless steel inner layer helps to prevent sticking and makes cleanup a breeze. In addition, the pot grip is a must-have accessory that helps you securely grab the pot without burning your hands. The Teflon fry pan is also a great option for those who want the convenience of a lid and a folding handle. When it comes to camping, these bi-metal combinations are the perfect way to have the best of both worlds.
Storage Pack
Any experienced camper will tell you that organization is key when packing for a trip. Not only does it make it easier to find what you need, but it can also help to prevent damage to your gear.
The Folding Camping Table with Storage is the perfect addition to your next camping trip! This table is made with a waterproof Oxford fabric and an aluminum frame with an MDF tabletop, making it sturdy and durable. It also features a storage bag for all of your camping gear. The table weight is 11LBs and it is available in two heights: 25″H and 28″H. The folded dimensions are 24″L x 24″W x 4″H and the overall dimensions are 48″L x 24″W x 28″H/ 25″H. The storage bag dimensions are 40 x 20 x 12 inches and it has a storage capacity of 40 gallons. The seat weight limit is 400 LBs (evenly distributed).
Stuff sacks are an essential tool for keeping things organized and protecting delicate items. For example, when packing for a camping trip, you might put your pots and pans in one stuff sack, your utensils in another smaller one, and your spices in a very small see-through ditty bag.
This helps to prevent the inside of your pack and other items from becoming as black as the pots. In addition, stuff sacks are often made from durable materials that can protect your belongings from bumps and scratches. So whether you're planning a backpacking trip or just want to be better organized at home, stuff sacks are a great option.
Protection Gloves
Gloves are an essential piece of gear if you're planning on cooking over a fire. Not only do they help prevent burns, but they also protect your hands from the heat of the flames.
And while they might add a bit of bulk and weight to your pack, they're definitely worth it for the added protection they provide. When choosing gloves for cooking, look for ones made of cotton or light leather.
These materials will help to deflect the heat and prevent burns. And make sure to choose a pair that fits snugly so that you can still move your fingers freely. With a good pair of gloves, you'll be able to enjoy your time around the fire without worry.
Utensils
Special utensils are key to making camp food edible. A tiny whisk is essential for mixing dried milk, pancake mix, hot cocoa, etc. Without it, you'll be serving lumpy drinks and food to your camp food critics. I also carry a folding knife that I use only for cooking.
The blade stays extremely sharp, locks in place for security, and is inexpensive and light. Add a GI-issue folding can opener for those just-in-case moments when a can of beans makes its way onto the menu.
With these few utensils, you'll be able to make anything from a gourmet meal to a simple bowl of oatmeal. So don't forget to pack them on your next camping trip!
Squeeze Tubes
Squeeze tubes are an essential part of any kitchen. They are perfect for storing and dispensing peanut butter, honey, jelly, and other smooth paste food.
Squeeze tubes are made of durable plastic and have a clip that secures one end. This makes it easy to open and close the tube, and prevents spillage. With the clip removed, the tube can be easily cleaned and refilled. Squeeze tubes are an essential part of any kitchen and are perfect for storing and dispensing your favorite peanut butter.
Small Spices Bottles
I always recommend that people buy a number of small bottles for carrying spices when they travel. The one-ounce Nalgene bottles with screw-on lids are perfect for this purpose.
They're small enough to fit in your pocket or purse, but they're large enough to hold a decent amount of spices. And the screw-on lids make them leak-proof. For liquids and oils, I also recommend getting a few one-ounce bottles with flip-top nozzles.
These are great for carrying things like olive oil or hot sauce. And they're much easier to use than traditional bottle caps. So if you're looking for an easy and convenient way to carry spices with you when you travel, give small bottles a try.
Conclusion
When planning a camping trip, it's important to pack the right gear. One of the most important items to bring is a camp kitchen. This includes pots, pans, utensils, and spices. It's also important to bring gloves and protection for your hands when cooking over a fire.
Another essential piece of gear is a good set of stuff sacks. These help to keep your belongings organized and protected. With the right gear, you'll be able to enjoy a delicious meal no matter where you are. So don't forget to pack a camp kitchen on your next trip! Thanks for reading! I hope this was helpful. 🙂
Camp Kitchen FAQ
What is the best way to pack a camp kitchen?
The best way to pack a camp kitchen is to choose items that are compact and lightweight. Pots, pans, and utensils should be made of materials that are easy to clean. It's also important to bring along a good set of stuff sacks for organizing your belongings.
What are some essential items for a camp kitchen?
Some essential items for a camp kitchen include pots, pans, utensils, spices, and gloves. These items will help you prepare meals while camping. It's also important to bring along a good set of stuff sacks for organizing your belongings.
What are some tips for cooking while camping?
Some tips for cooking while camping include using a camp stove for hot meals and bringing along easy-to-prepare food items. It's also important to pack a camp kitchen with the right gear. This includes pots, pans, utensils, and spices.
Jason is the author of Laienhaft, a blog for all things outdoor and camping. If you're looking for the best tent to take on your next camping trip, or need some advice on how to get started with recreational camping, Jason has you covered. He's also an expert on survival skills – if you're ever lost in the wilderness, he's the guy you want to find!