Living in a camper on your own land is like embarking on a grand adventure, where the open road meets the comfort of home. It's a journey that allows you to embrace the simplicity of life, surrounded by nature's beauty and the freedom to roam.
In this article, I will guide you through the process of creating your own little haven, where you can live comfortably and sustainably in your camper. From finding the perfect location and preparing the land, to choosing the right camper and setting it up for optimal living, we will cover it all.
You'll also discover the joys of connecting with the camper community, embracing a minimalist lifestyle, and enjoying the benefits of this unique way of living. So, grab your wanderlust and let's dive into the world of living in a camper on your very own land.
Key Takeaways
Prioritize affordability and access to utilities when choosing the perfect location for living in a camper on your own land.
Prepare the land by clearing, leveling, grading, and ensuring proper drainage before setting up your camper.
Choose the right size and layout of the camper based on your needs, considering features and amenities for storage and outdoor living space.
Embrace sustainable gardening and off-grid living practices, such as composting and rainwater harvesting, to reduce environmental impact and have access to fresh food.
Finding the Perfect Location for Your Camper
Finding the perfect location for your camper can be a challenging task, but with careful consideration and research, you'll be able to find the ideal spot to call home.
When looking for a location, it's important to prioritize finding affordable options. Look for areas where land prices are reasonable and won't break the bank. Additionally, researching local utilities is crucial. Ensure that the area you choose has access to water, electricity, and sewage services, as these are essential for comfortable camper living.
To find affordable options, consider looking for land in rural areas or areas with less demand. These locations often have lower land prices and may offer more flexibility in terms of land use regulations.
Researching local utilities is as simple as contacting the local utility providers and asking about availability and costs. This will help you plan your budget and ensure you have all the necessary services for living in a camper.
Once you have found the perfect location and confirmed the availability of utilities, you can start preparing the land for camper living.
Preparing the Land for Camper Living
To get started, you'll want to clear the area and create a blank canvas for your mobile sanctuary. Land preparation is crucial for a smooth and comfortable camper living experience. The first step is to level and grade the land. This ensures that your camper will be stable and secure. Begin by removing any rocks, debris, or vegetation from the area. Then, use a bulldozer or tractor to level the ground, making it even and flat.
Next, it's important to consider drainage. You don't want water pooling around your camper, so make sure the land slopes away from it. This can be achieved by adding gravel or creating a small ditch to redirect water flow. Additionally, installing a French drain can help prevent water buildup.
To evoke emotion and show the potential of your new living space, imagine a peaceful scene: a cozy camper nestled amidst lush green grass, surrounded by colorful flowers and tall trees. Picture yourself sitting outside, enjoying a cup of coffee while taking in the serene beauty of nature.
Now that your land is prepared, it's time to choose the right camper for your needs. Whether you prefer a compact camper or a spacious RV, finding the perfect fit will ensure a comfortable and enjoyable living experience.
Choosing the Right Camper for Your Needs
When choosing the right camper for my needs, I need to consider the size and layout that will best suit my lifestyle.
It's important to evaluate the features and amenities that are important to me, such as a kitchen, bathroom, and sleeping arrangements.
Finally, I need to determine the long-term durability of the camper to ensure it can withstand the elements and last for years to come.
Consider Size and Layout
Make sure you have enough space on your land to accommodate the size and layout of your camper, allowing for comfortable living and easy maneuverability. When considering the size of your camper, think about how many people will be living in it and how much space you will need for sleeping, eating, and moving around. The layout of the camper is also important, as it determines how the space is utilized and how functional it will be. To help you visualize this, here is a table that shows the dimensions of different camper sizes and their layout options:
| Camper Size | Sleeping Capacity | Kitchen Layout | Bathroom Layout | Living Area Layout |
| --- | --- | --- | --- | --- |
| Small | 1-2 | Compact | Compact | Cozy |
| Medium | 2-4 | Efficient | Compact | Spacious |
| Large | 4+ | Spacious | Full | Versatile |
Considering these size and layout options will ensure that your camper fits your needs and preferences. Now, let's evaluate the features and amenities to make your camper living experience even better.
Evaluate Features and Amenities
Now, envision yourself in a cozy camper, surrounded by a plethora of features and amenities that'll enhance your living experience.
When evaluating features and amenities for your camper, it's important to consider how they can maximize storage and create outdoor living space. Look for campers with ample storage options such as built-in cabinets, under-bed storage, and overhead compartments. This'll help you keep your belongings organized and make the most of the limited space.
Additionally, consider features that allow you to create an outdoor living space, such as an awning or a fold-out deck. These additions can extend your living area and provide a comfortable space to relax and entertain.
Moving forward to determining long-term durability, it's essential to carefully assess the materials and construction of the camper.
Determine Long-Term Durability
To ensure your camper stands the test of time, carefully assess the materials and construction for long-term durability. When determining the construction of a camper, pay close attention to the quality of the materials used. Look for sturdy and durable materials, such as fiberglass or aluminum, which can withstand harsh weather conditions and resist corrosion.
Additionally, consider the construction techniques employed, such as welded seams and reinforced corners, as these contribute to the overall strength and durability of the camper. It's also important to think about long-term maintenance. Opt for features that are easy to clean and maintain, as this'll save you time and effort in the future.
By carefully evaluating the construction and long-term maintenance requirements of your camper, you can ensure that it'll last for many years to come. This'll allow you to set up your camper for comfortable living without any worries about its durability.
Setting Up Your Camper for Comfortable Living
First things first, let's talk about how you can transform your camper into a cozy little home sweet home on your very own land.
To ensure a comfortable living space, it's important to prepare the utilities and maximize storage space in your camper.
Start by checking the existing utilities in your camper. Ensure that the electrical system is in good working condition and that there's a reliable power source. If needed, consider installing solar panels or a generator to provide electricity.
Check the plumbing system for any leaks or damages, and make sure the water supply is easily accessible.
Next, focus on maximizing storage space. Utilize every nook and cranny by installing shelves, hooks, and organizers. Consider using collapsible furniture or multi-purpose items to save space. Use vertical storage solutions to make the most of your wall space. Additionally, invest in storage containers that fit under beds or in unused spaces.
By preparing the utilities and maximizing storage space in your camper, you can create a comfortable living environment. With everything in place, you'll be ready to embark on the next step of establishing a sustainable lifestyle on your own land, ensuring a seamless transition into a self-sufficient and fulfilling way of living.
Establishing a Sustainable Lifestyle
Imagine yourself as a tiny seedling, growing roots to establish a sustainable lifestyle that nourishes and supports you, just like a plant finding its place in the soil. When it comes to living in a camper on your own land, embracing sustainable gardening and off-grid living practices is key.
Not only can sustainable gardening provide you with fresh and organic produce, but it also reduces waste and promotes self-sufficiency. To start, consider setting up a composting system for kitchen scraps and yard waste. This will not only help you reduce waste but also provide nutrient-rich soil for your garden. Additionally, implementing rainwater harvesting techniques can help you conserve water and reduce your reliance on municipal sources.
When it comes to gardening, focus on using organic and natural fertilizers, as well as companion planting to deter pests naturally. Embrace permaculture principles by creating a diverse and resilient garden ecosystem.
Off-grid living goes hand in hand with sustainable gardening. Invest in solar panels and energy-efficient appliances to reduce your reliance on traditional power sources. Consider installing a rainwater collection system and a greywater recycling system to further minimize your impact on the environment.
By incorporating sustainable gardening and off-grid living practices, you can create a thriving ecosystem that supports your self-sufficient lifestyle. Transitioning to the next section about navigating legal and zoning regulations, it's important to understand the rules and regulations in your area to ensure compliance while still enjoying the benefits of your sustainable lifestyle.
Navigating Legal and Zoning Regulations
Navigating legal and zoning regulations can be a bit like untangling a tangled web, but understanding the rules in your area is essential for building a sustainable lifestyle.
When it comes to living in a camper on your own land, there are a few key legal restrictions and zoning laws to keep in mind:
Research local regulations: Start by researching the specific regulations in your area. Look for any restrictions on living in a camper or RV on your land, such as time limits or permits required.

Consult with local authorities: Reach out to your local zoning office or planning department to get clarification on the rules. They can provide valuable information on setbacks, utility connections, and any other requirements you need to meet.

Seek legal advice if necessary: If you're unsure about the regulations or if you encounter any roadblocks, it's wise to consult with a lawyer who specializes in land use or zoning. They can guide you through the legal process and ensure you're in compliance with all relevant laws.

Engage with the community: Connecting with other camper enthusiasts and individuals who have successfully navigated the legal and zoning regulations can provide valuable insights and support. Join online forums, attend local meetings, and seek advice from experienced individuals who can share their knowledge and experiences.
Navigating legal and zoning regulations is just the first step on your journey to living in a camper on your own land. Once you have a solid understanding of the rules, connecting with the camper community can help you further explore and enjoy this lifestyle.
Connecting with the Camper Community
Connecting with the camper community can offer a wealth of knowledge and support, allowing me to fully immerse myself in the unique lifestyle of living in a mobile home.
One way to connect with other campers is by attending camper community events. These events are a great opportunity to meet like-minded individuals, share experiences, and learn from seasoned campers. From workshops on camper maintenance to discussions on off-grid living, these events provide valuable information that can enhance my camper life.
Another way to connect with the camper community is through online camper forums. These forums are a hub of information where I can ask questions, seek advice, and find resources. Whether it's troubleshooting camper issues or finding the best campsites, the camper community is always ready to help.
By connecting with the camper community, I can tap into a vast network of knowledge and support that will make my camper life more enjoyable and fulfilling. It's through these connections that I can learn about upcoming camper community events and stay updated on the latest trends and innovations in camper living.
Transitioning into the next section, embracing a minimalist lifestyle is a natural progression for those living in a camper.
Embracing a Minimalist Lifestyle
To fully embrace the minimalist lifestyle, you'll need to declutter and simplify your possessions, focusing on only the essentials. Minimalist home decor is key in creating a serene and clutter-free living space. Choose neutral colors and natural materials for furniture and accessories, and keep decorative items to a minimum. A simple and uncluttered living area can help promote a sense of calm and tranquility.
In addition to simplifying your physical surroundings, it's important to simplify your daily routines as well. Adopting a minimalist approach to your daily tasks can help reduce stress and increase productivity. Create a daily schedule that prioritizes your most important tasks and eliminates unnecessary ones. By focusing on what truly matters, you can free up time and energy for activities that bring you joy and fulfillment.
To visualize the concept of minimalism, let's take a look at the following table:
| Aspects of Minimalism | Benefits |
| --- | --- |
| Decluttering | Creates a clean and organized living space |
| Simplifying decor | Promotes a sense of calm and tranquility |
| Streamlining routines | Reduces stress and increases productivity |
By embracing a minimalist lifestyle, you can create a peaceful and clutter-free living environment while simplifying your daily routines. This will allow you to focus on maintaining your camper and property without feeling overwhelmed.
Maintaining Your Camper and Property
Maintaining a camper and property requires regular upkeep and attention to ensure a smooth and stress-free living experience, similar to tending to a well-groomed garden. It's essential to keep your camper's appliances in good working order. Regularly check and clean the refrigerator, stove, and water heater to prevent any malfunctions or breakdowns.
Additionally, make sure to inspect and maintain the electrical and plumbing systems to avoid any potential issues.
Landscaping and gardening around your camper can enhance the overall aesthetic appeal and create a pleasant outdoor living space. Trim bushes, mow the lawn, and remove any weeds regularly to keep the area neat and tidy. Consider planting flowers or small shrubs to add color and beauty to your surroundings. Creating a designated area for relaxation, such as a patio or deck, can provide an inviting space to enjoy the outdoors.
By maintaining your camper and property diligently, you can fully enjoy the benefits of camper living. Taking care of your appliances and keeping the surroundings well-groomed will ensure a comfortable and functional living space.
In the next section, we will explore the various ways to make the most of your camper living experience without compromising on convenience and comfort.
Enjoying the Benefits of Camper Living
Experience the freedom and adventure of camper living by exploring new destinations, meeting fellow travelers, and immersing yourself in the beauty of nature. Living in a camper on your own land offers numerous benefits, allowing you to enjoy a simple and fulfilling lifestyle. Here are some tips and tricks to make the most of this unique living arrangement.
One of the major benefits of camper living is the flexibility it provides. With your own camper, you have the freedom to travel wherever and whenever you please. You can easily change your surroundings, waking up to breathtaking landscapes and exploring new places on a whim.
Another advantage is the cost savings. Living in a camper on your own land eliminates the need for expensive rent or mortgage payments. You can save a significant amount of money, allowing you to spend it on experiences and adventures instead.
To fully enjoy the benefits of camper living, it's important to make your camper and property comfortable and functional. Use the table below to explore some practical ideas and suggestions for enhancing your camper living experience:
| Camper Living Tips | Benefits |
| --- | --- |
| Solar panels for energy | Sustainable living |
| Composting toilet | Environmental friendly |
| Outdoor living space | Expanded living area |
| Rainwater collection system | Self-sufficiency |
| Mobile internet setup | Stay connected on the road |
By incorporating these tips, you can create a cozy and efficient living space that allows you to fully embrace the joys of camper living. So, get out there, explore, and enjoy the boundless benefits that come with living in a camper on your own land.
Frequently Asked Questions
Can I live in a camper on my own land permanently?
Yes, I can live in a camper on my own land permanently. There are numerous advantages to this lifestyle.
Firstly, I have the freedom to design my living space exactly the way I want, without any restrictions. Secondly, living in a camper allows me to be closer to nature, enjoying the fresh air and beautiful surroundings.
However, it's important to acknowledge the challenges, such as limited space and the need for proper utilities and waste management systems.
What permits or licenses do I need to live in a camper on my own land?
To live in a camper on my own land, I need to ensure that I comply with zoning regulations for this type of living arrangement. The first step is to research the local zoning laws and find out if living in a camper is allowed. If it's permitted, I'll need to obtain the necessary permits, which may include a land use permit or a special permit for temporary dwelling. It's important to follow these steps to ensure a legal and hassle-free living situation.
Are there any restrictions on the size or type of camper I can have on my own land?
There are camper regulations and zoning laws that dictate the size and type of camper you can have on your own land. These restrictions vary depending on your location and local laws. It's important to research and understand the specific regulations in your area before purchasing a camper.
Some areas may have limitations on the size, height, or even the aesthetic appearance of the camper. It's advisable to consult with local authorities or a zoning specialist to ensure compliance.
How do I handle waste disposal when living in a camper on my own land?
When it comes to waste disposal while living in a camper on your own land, there are alternative methods to consider. One practical option is using a composting toilet specifically designed for campers. These toilets separate liquid and solid waste, promoting decomposition and minimizing odors. They're environmentally friendly and easy to maintain.
Additionally, composting toilets can be emptied into designated composting areas or utilized for fertilizing plants, making them a sustainable choice for waste management.
Can I build additional structures, such as a shed or deck, on my own land when living in a camper?
Yes, you can build additional structures like a shed or deck on your own land when living in a camper. One of the pros of living in a camper on your own land is the flexibility it offers. You have the freedom to customize your space and create a comfortable living environment. Building additional structures can provide extra storage space or a nice outdoor area for relaxation. However, it's important to check local building codes and zoning regulations to ensure compliance and avoid any legal issues.
Conclusion
In conclusion, living in a camper on your own land offers a unique opportunity to lead a sustainable and minimalist lifestyle. By finding the perfect location, preparing the land, and choosing the right camper, you can create a comfortable and sustainable living space.
Additionally, connecting with the camper community and maintaining your camper and property ensures a fulfilling and enjoyable experience. However, it's important to investigate the truth of the theory that living in a camper on your own land is a viable long-term solution, as there may be legal and practical challenges to consider.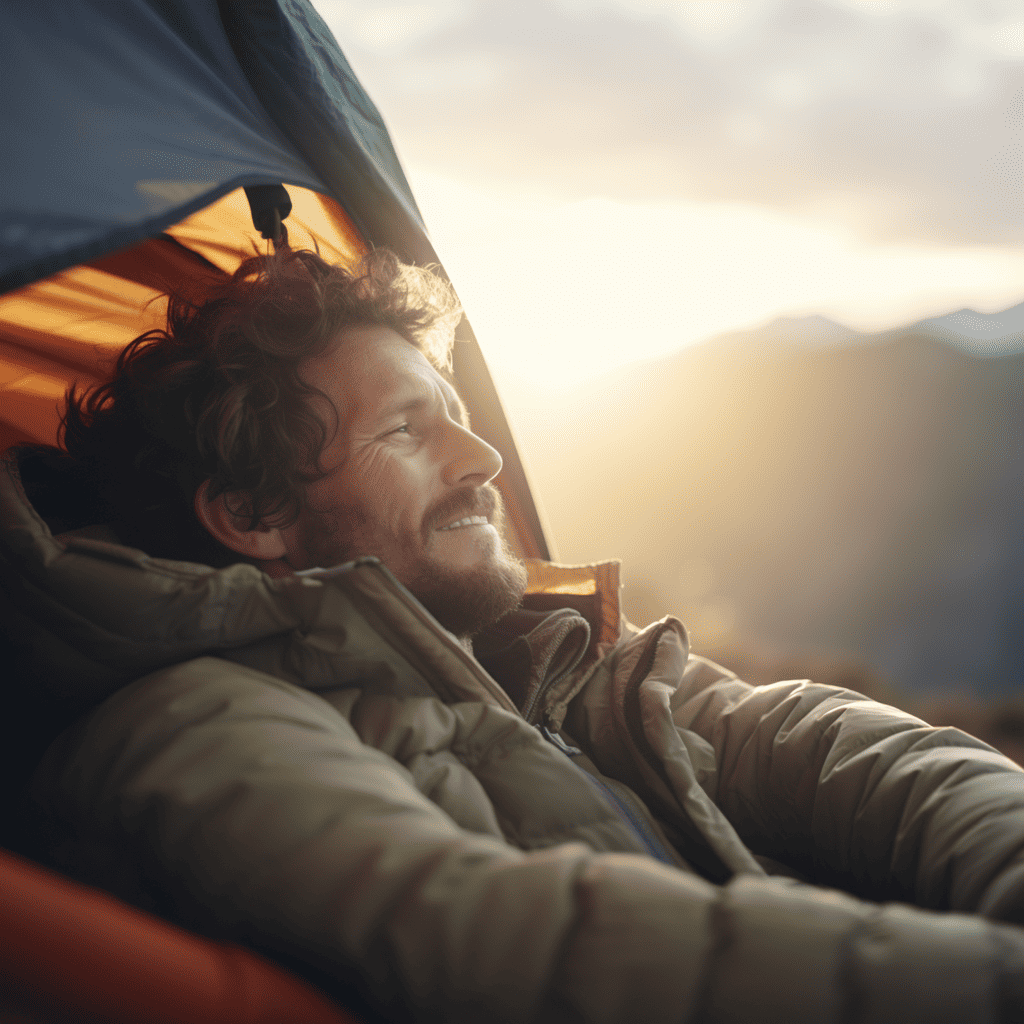 Jason is the author of Laienhaft, a blog for all things outdoor and camping. If you're looking for the best tent to take on your next camping trip, or need some advice on how to get started with recreational camping, Jason has you covered. He's also an expert on survival skills – if you're ever lost in the wilderness, he's the guy you want to find!