Picture this: you're on the open road, the wind blowing through your hair as you embark on a grand adventure in your very own camper.
But wait, this isn't just any ordinary camper – it's your personalized sanctuary on wheels. A place where you can unwind, relax, and truly make it your own.
In this article, I'm going to show you how to transform your camper into a stylish and cozy haven that reflects your unique personality. From choosing a theme to optimizing space with functional furniture and storage solutions, we'll leave no stone unturned.
Get ready to embrace nature-inspired elements for a rustic feel, add vibrant accessories for a pop of color, and incorporate personal touches that make it feel like home.
With practical lighting fixtures, a comfortable outdoor living area, and a clean and organized space, you'll be well-equipped to enjoy a stress-free camping experience.
So let's dive in and discover the art of camper decoration together!
Key Takeaways
Choose a theme for your camper such as rustic, modern, beach, or forest-inspired to guide your decor choices.
Optimize space by using functional furniture and clever storage solutions, such as multipurpose furniture and woven baskets.
Incorporate nature-inspired elements like wooden accents, stone-inspired decor, and driftwood to create a rustic feel.
Personalize your space with cozy textiles, cushions, and colorful accessories to add comfort and vibrancy.
Choose a Theme for Your Camper
Choosing a theme for your camper is a fun and creative way to transform it into a personalized oasis on wheels. Whether you prefer a rustic or modern aesthetic, or if you're torn between a beach or forest-inspired vibe, the possibilities are endless.
For a rustic theme, you can incorporate natural elements such as wood accents, earthy tones, and cozy textiles. Think warm plaid blankets, vintage lanterns, and a touch of wilderness-inspired decor.
On the other hand, a modern theme calls for sleek lines, minimalist designs, and a monochromatic color palette. Consider using stainless steel appliances, geometric patterns, and clean, contemporary furniture to achieve this look.
If you're more inclined towards a beach theme, opt for light and breezy colors, coastal prints, and nautical accents. Incorporate seashells, driftwood, and beach-inspired artwork to create a serene coastal atmosphere.
Alternatively, a forest theme can bring the outdoors inside with leafy green hues, botanical prints, and nature-inspired decor. Think about incorporating rustic wooden furniture, cozy plaid blankets, and forest-inspired wall art.
Once you've chosen your theme, it's time to optimize space with functional furniture and storage solutions. By carefully selecting multipurpose furniture and utilizing clever storage solutions, you can maximize the space in your camper without sacrificing style or comfort.
Optimize Space with Functional Furniture and Storage Solutions
To maximize the limited space in a camper, look for furniture and storage solutions that can multitask and pull double duty. For example, find a sofa that transforms into a bed or a table with built-in drawers that hide away clutter. These options create a hidden treasure trove of storage possibilities.
Space-saving furniture is essential in a camper, as every square inch counts. Opt for a collapsible dining table that can be folded down when not in use, or choose chairs that can be stacked neatly in a corner. Look for beds that have built-in storage underneath, perfect for stashing away bedding or clothing.
Clever storage solutions are also key in making the most of your camper's space. Utilize vertical space by installing shelves or hanging organizers on the walls. You can also find storage ottomans that double as seating and provide a place to store items out of sight. Magnetic strips on the walls are great for holding knives and other metal kitchen utensils, while hooks can be used to hang pots and pans.
Don't forget about the space under the sink and inside cabinets – use stackable bins or baskets to keep everything organized.
By incorporating space-saving furniture and clever storage solutions into your camper, you can optimize every inch of available space. This will allow you to add cozy textiles and cushions for comfort, creating a warm and inviting atmosphere in your home on wheels.
Add Cozy Textiles and Cushions for Comfort
Creating a cozy and inviting atmosphere in your camper is easily achieved by adding soft textiles and plush cushions. Cozy blankets and rugs not only provide warmth, but they also add a touch of comfort and style to your space. Whether you're lounging on the couch or sitting at the dinette, wrapping yourself in a soft blanket can make you feel instantly at home.
To help you visualize how cozy textiles and cushions can transform your camper, take a look at the table below:
| Textiles and Cushions | Description |
| --- | --- |
| Fluffy Throw Blankets | Perfect for snuggling up on chilly evenings |
| Plush Cushions | Add extra comfort to seating areas |
| Faux Fur Rugs | Soft and luxurious underfoot |
| Knitted Pillows | Bring a cozy and handmade feel to your camper |
| Decorative Cushion Covers | Easily change the look of your cushions with different patterns and colors |
Incorporating these cozy textiles and cushions into your camper will create a warm and inviting space that you'll love spending time in. Once you've achieved the perfect level of comfort, you can start thinking about incorporating nature-inspired elements for a rustic feel.
Incorporate Nature-Inspired Elements for a Rustic Feel
By bringing in nature-inspired elements, your camper can be transformed into a rustic retreat that immerses you in the beauty of the great outdoors. To achieve a rustic camper decor, start by incorporating natural textures such as wooden accents, woven baskets, and stone-inspired decor pieces.
Hang a macrame wall hanging or display dried flowers in mason jars to add a touch of bohemian charm. Consider using earthy color palettes like warm browns, deep greens, and shades of blue to create a calming and serene atmosphere.
Nature-inspired camping is all about connecting with the environment, so bring the outdoors inside by incorporating elements like driftwood, pine cones, and branches into your decor. Create a focal point with a statement piece, such as a reclaimed wood coffee table or a log slice serving tray. Enhance the rustic feel by adding cozy blankets and pillows in natural fabrics like linen or burlap.
Now, let's transition into the subsequent section about using colorful accessories for a vibrant look.
Use Colorful Accessories for a Vibrant Look
Infuse your rustic retreat with vibrant energy by incorporating colorful accessories. When it comes to decorating a camper, adding pops of color can instantly transform the space and give it a lively and cheerful atmosphere. One way to incorporate colorful accessories is through camper lighting. Opt for string lights in various hues to create a whimsical and festive ambiance. These lights can be hung along the walls or draped around windows, instantly adding a touch of color and charm. Choose lights that're battery-operated or solar-powered for convenience during camping trips.
In addition to camper lighting, consider adding colorful throw pillows and blankets to your seating area. These accessories not only provide comfort but also add a splash of color to the space. You can mix and match different patterns and textures to create a vibrant and eclectic look. Don't be afraid to experiment with bold and bright colors that complement the natural elements of your camper.
As you transition into the next section about hanging curtains or blinds for privacy and light control, consider using colorful fabrics that can double as both functional and decorative elements. By incorporating colorful accessories and fabrics, you can create a camper that's both visually appealing and comfortable.
Hang Curtains or Blinds for Privacy and Light Control
Now that we've discussed using colorful accessories to create a vibrant look in your camper, let's move on to another important aspect of camper decoration: privacy and light control. It's essential to have the option to block out light and create a private space, especially when you're camping in crowded areas or simply want some alone time. Luckily, there are various options available to achieve this in your camper.
When it comes to privacy, hanging curtains or blinds is a fantastic choice. Not only do they provide a practical solution, but they also add a touch of style to your interior. Here are five options to consider:
Sheer curtains that allow natural light to filter through, creating a soft and dreamy ambiance.
Blackout curtains that completely block out light, perfect for those who prefer a dark and cozy atmosphere.
Bamboo blinds that add a rustic and natural feel to your camper, while still providing privacy.
Roman shades that can be easily adjusted to control the amount of light entering your space.
Patterned curtains that add a pop of color and personality to your camper's interior.
By incorporating these privacy options, you can create a cozy and intimate atmosphere inside your camper. Now, let's move on to the next step, where we'll explore how to personalize your space with photos and decorative items.
Personalize Your Space with Photos and Decorative Items
To truly make your space your own, why not adorn it with cherished photographs and decorative items that reflect your personality and create a sense of nostalgia? Adding personal artwork and using unique collectibles can instantly transform your camper into a cozy oasis that feels like home.
Start by selecting a few of your favorite photographs to display. You can hang them on the walls or use magnetic frames on your refrigerator. These pictures won't only bring back memories but also serve as conversation starters for guests who visit your camper.
In addition to photographs, consider incorporating decorative items that represent your interests and hobbies. Whether it's a small sculpture, a vintage map, or a collection of seashells, these unique collectibles will add character and charm to your space.
When arranging your decorative items, pay attention to the overall aesthetic. Consider the colors, textures, and placement to create a visually appealing display. Don't be afraid to mix and match different styles to create a truly personalized look.
As you add the finishing touches to your camper, keep in mind the transition to the next section about installing practical lighting fixtures for ambiance and functionality. Lighting can greatly enhance the atmosphere of your space, creating a warm and inviting environment.
Install Practical Lighting Fixtures for Ambiance and Functionality
Illuminate your space with practical lighting fixtures that not only create a cozy ambiance, but also provide functionality for all your activities. When it comes to lighting options for your camper, there are numerous lighting tips and ideas to consider.
Lighting installation is a crucial part of creating a comfortable living space that suits your needs.
One popular lighting design choice is to install LED strip lights along the ceiling or under cabinets. These lights not only add a touch of style to your camper, but they also provide a soft and warm glow that sets a relaxing and inviting atmosphere. Additionally, LED lights are energy-efficient and long-lasting, making them a practical choice for camping adventures.
Another lighting option is to incorporate task lighting fixtures in specific areas where you need additional brightness. For example, installing a flexible reading light near your bed or a bright light above the kitchen counter can make your daily activities much easier.
To transition into the next section, create an outdoor living area with camping chairs and a canopy, consider adding outdoor lighting fixtures to your camper. By extending your lighting design to the outside, you can create a cohesive and inviting space that is perfect for relaxing and entertaining.
Create an Outdoor Living Area with Camping Chairs and a Canopy
Transform your outdoor space into a cozy oasis with the addition of camping chairs and a canopy. Picture this: you're sitting back in a comfortable camping chair, sipping a cold drink, and enjoying the gentle breeze under the shade of a canopy. It's the perfect setup for relaxation and creating lasting memories with friends and family.
To help you choose the right camping chairs and canopy, I've prepared a handy table below to compare different options. From lightweight and foldable chairs to durable and waterproof canopies, there's something for every camper's preference. Don't forget to consider the size and weight of the chairs and the coverage area of the canopy when making your selection.
| Camping Chairs | Canopy |
| --- | --- |
| Lightweight and Foldable | Durable and Waterproof |
| Comfortable and Supportive | Easy to Set Up |
| Compact and Portable | Spacious Coverage Area |
In addition to the chairs and canopy, you can further enhance your outdoor living area with an outdoor rug. It adds a touch of comfort and style while protecting your feet from the rough ground. There are plenty of outdoor rug ideas to choose from, including vibrant patterns and durable materials.
As you transform your camper's outdoor space, it's important to also keep it clean and organized for a stress-free camping experience.
Keep It Clean and Organized for a Stress-Free Camping Experience
After creating a cozy outdoor living area with camping chairs and a canopy, it's important to shift our focus to keeping the camper clean and organized. Trust me, a stress-free camping experience starts with a tidy and clutter-free environment.
Here are some cleaning tips and decluttering strategies that will make your camper feel like a home away from home:
Develop a cleaning routine: Establish a schedule for regular cleaning tasks, such as sweeping the floors, wiping down surfaces, and cleaning the bathroom. This will help you stay on top of things and maintain a fresh and inviting space.

Utilize storage solutions: Invest in collapsible storage bins, hanging organizers, and stackable containers to maximize the limited space in your camper. Use them to store kitchen utensils, toiletries, and other essentials, keeping everything neat and easily accessible.

Minimize belongings: Be ruthless when it comes to decluttering. Only bring items that you truly need and love. Consider donating or selling things that no longer serve a purpose in your camper.

Optimize vertical space: Make use of wall-mounted hooks, shelves, and hanging baskets to free up valuable counter space. This will not only help with organization but also create a visually appealing and functional interior.
By implementing these cleaning tips and decluttering strategies, you'll create a serene and inviting camper that promotes relaxation and enjoyment during your camping adventures.
Frequently Asked Questions
How much does it cost to decorate a camper?
Decorating a camper can be a thrilling project, but it's important to consider the cost estimation and budget planning. The total cost of decorating a camper can vary depending on several factors such as the extent of renovations, materials used, and personal preferences.
It's wise to create a detailed budget plan that includes expenses for paint, flooring, furniture, and other decorative items. By carefully planning and researching affordable options, you can create a stylish and cozy camper without breaking the bank.
What are some creative ways to incorporate nature-inspired elements into camper decor?
When it comes to incorporating nature-inspired elements into camper decor, the possibilities are endless! One way to achieve this is by choosing nature-inspired color schemes, such as earthy tones or vibrant greens.
Another creative idea is to create DIY nature-themed wall art, using materials like driftwood, pressed flowers, or botanical prints. These elements will bring a touch of the outdoors into your camper, creating a serene and inviting space to relax and unwind.
Are there any safety considerations when installing lighting fixtures in a camper?
When it comes to safety precautions for electrical installation in a camper, there are a few key things to keep in mind. First, ensure that you're using the proper wiring and electrical components designed for use in RVs.
It's also important to carefully plan the placement of lighting fixtures to avoid any potential hazards or obstructions. Additionally, always make sure to follow the manufacturer's instructions and consult a professional if needed.
Taking these precautions will help ensure a safe and enjoyable camping experience.
What are some tips for choosing the right camping chairs and canopy for an outdoor living area?
Choosing durable furniture is essential when creating an outdoor living area. When it comes to camping chairs and canopies, consider materials like aluminum or steel frames for chairs, as they offer sturdiness and resistance to weather elements.
For canopies, opt for fabrics like polyester or vinyl, as they're durable and can withstand outdoor conditions. Additionally, look for chairs and canopies with UV protection to ensure longevity.
Don't compromise on quality when investing in outdoor furniture!
How often should I clean and organize my camper to maintain a stress-free camping experience?
To maintain a stress-free camping experience, I find that cleaning and organizing my camper regularly is essential.
When it comes to cleaning frequency, I recommend giving your camper a thorough clean before and after each camping trip. This helps to keep it fresh and ready for your next adventure.
As for organization tips, invest in storage solutions like bins and hooks to keep everything in its place. This'll make finding what you need a breeze and ensure a clutter-free space.
Conclusion
In conclusion, decorating a camper isn't just about making it look pretty, but also about creating a comfortable and functional space that reflects your personality. By choosing a theme and optimizing space, adding cozy textiles and nature-inspired elements, using colorful accessories, personalizing with photos and decor, installing practical lighting fixtures, and creating an outdoor living area, you can transform your camper into a home away from home.
Remember, keeping it clean and organized is essential for a stress-free camping experience. So go ahead, unleash your creativity and make your camper a cozy sanctuary on wheels.
Imagine this: you're sitting by the campfire, surrounded by the serene beauty of nature, and your camper is like a little oasis amidst it all. The soft cushions and cozy textiles invite you to relax, while the rustic elements and colorful accessories add a touch of vibrancy to the space. As you look around, you see photos and decorative items that remind you of cherished memories. The practical lighting fixtures illuminate the camper, creating a warm and inviting ambiance.
And when the sun is shining, you can step outside into your outdoor living area, complete with camping chairs and a canopy, ready for a day of adventure. It's the perfect metaphor for life on the road – a journey filled with comfort, beauty, and endless possibilities.
So why wait? Start decorating your camper and embark on your own unforgettable adventure.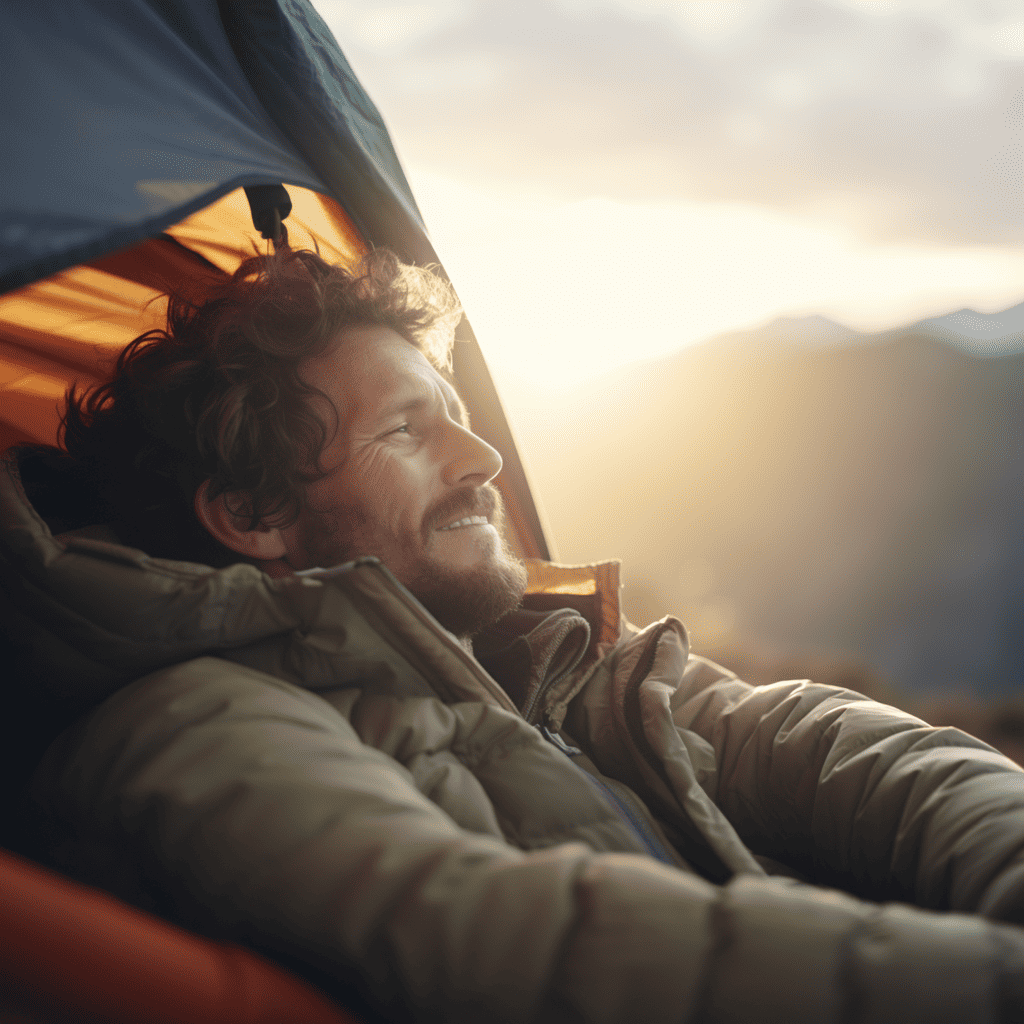 Jason is the author of Laienhaft, a blog for all things outdoor and camping. If you're looking for the best tent to take on your next camping trip, or need some advice on how to get started with recreational camping, Jason has you covered. He's also an expert on survival skills – if you're ever lost in the wilderness, he's the guy you want to find!